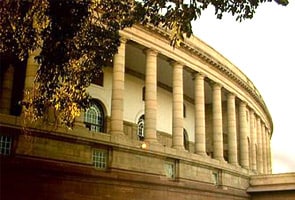 New Delhi:
Each minute of running Parliament during sessions costs the exchequer Rs 2.5 lakh.
This was reminded by the government to the Opposition as the Monsoon Session of the Parliament was almost completely washed out over the controversy on coal block allocations with BJP insistent on Prime Minister Manmohan Singh's resignation.
"In one year, Parliament runs for eighty days during sessions. Each day, business in both Houses is conducted for around six hours. If we take into account the total annual expenditure on Parliament, then each minute of running the House costs Rs 2.5 lakh," Parliamentary Affairs Minister Pawan Kumar Bansal told reporters in New Delhi.
He said 77 percent of the session's business time in Lok Sabha and 72 percent in Rajya Sabha was lost due to disruptions in this session and asked the Opposition to realise that "enough is enough".
Mr Bansal said Parliament will lose its relevance and significance if only disruptions take place in the House.
"Parliament should not be taken to 11 Ashoka Road (BJP's headquarters) or television studios. Allow Parliament to function in Parliament office", he said.
Taking further Rajya Sabha Chairman Hamid Ansari's contention that the session will be remembered for work not done, Mr Bansal said the washout of the session has "inflicted an wound on the body politic of India".
Minister of State for Planning Ashwini Kumar said "lakhs of rupees of taxpayers' money has been spent daily in the stalled procedure of Parliament, which has not been accounted for".
Dismissing as BJP's demand for the resignation of the Prime Minister as "constitutionally perverse", Mr Kumar accused BJP of causing "incalculable damage" to institutional pillars of democracy and "disabling Parliament" to reflect the voice of the people.