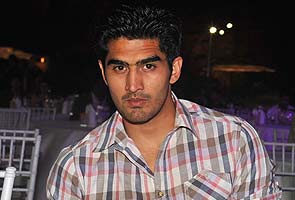 New Delhi:
Ram Singh, a national-level boxer and friend of Olympic medallist Vijender Singh, has been expelled from Patiala's National Institute of Sports after he admitted to taking drugs.
Punjab Police sources say investigations indicate that boxer Vijender Singh could have also experimented with drugs which he allegedly bought with Ram Singh from drug dealer Anup Singh Kahlon, who was arrested on March 3 in a major drug bust.
The police say though Vijender will be questioned soon, they do not believe that he knew much about the international smuggling ring that the arrested dealer was allegedly a part of.
Even Haryana Chief Minister Bhupinder Singh Hooda said that he does not think that Vijender is involved in the drug case. "Law will take its own course," he added.
Vijender has denied ever using drugs and said he had no links with the drug dealer. The boxer is currently in Mumbai.
A car belonging to Vijender's wife was found parked outside Kahlon's house when the police raided it on March 3. They seized over 26 kg of drugs, including heroin, worth Rs. 130 crore in the raid. Vijender has said he does not know how the car got there and has suggested that Ram Singh might have been using it.
Ram Singh, who was questioned by the police yesterday, told television channels, "I had no role. I knew Kahlon for some time, he gave drugs to us as food supplements... later we realised it was drugs. We took drugs 3-4 times... Vijender took drugs three-four times. When we realised they were drugs, we stopped using them."
Police sources claim that Kahlon has during his interrogation alleged that he met Vijender at least four times. Kahlon is believed to have begun spreading his drug network in India in 2009. An NRI of Canadian origin, he is allegedly known internationally in the drug cartel.
Vijender Singh won India its first boxing Olympic medal in 2008.