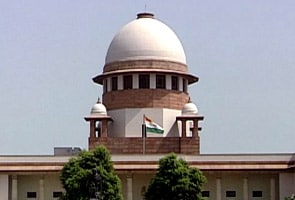 New Delhi:
The Supreme Court today pulled up the Centre for not following its February 2 order of auctioning the entire 2G spectrum made available after cancellation of 122 licences and also stayed proceedings of petitions relating to the scam in the Delhi High Court.
Unhappy that the Centre was only auctioning in the 800 MHz and 1800 MHz bands, the court said: "Prima facie we find you (Centre) aren't carrying out the (February 2) order but playing with it."
The Centre said the spectrum made available after cancelling the 122 licences was only for 1800 MHz. So far, there were only five bidders for 1800 MHz and none for 800 MHz.
"All proceedings pending in the Delhi High Court shall remain stayed," said a bench of Justice GS Singhvi and Justice KS Radhakrishnan. It issued notices and sought the replies of various parties within six weeks.
Among the petitions are those from former telecom minister and prime accused A Raja, DMK MP Kanimozhi and others seeking quashing of 2G cases against them.
The CBI had cited a Supreme Court order of April 2011 that directed that no other court shall entertain any application relating to the 2G case. The court was informed that 20 petitions were pending before the high court.
The Supreme Court had expressed displeasure on November 8 that the Delhi High Court was hearing 2G scam petitions despite its order.
(With PTI inputs)