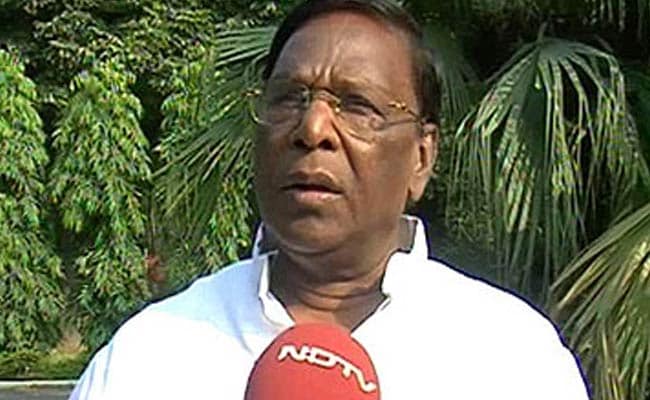 Puducherry:
Puducherry Chief Minister V Narayanasamy urged the BJP-led Centre today to refrain from putting obstacles in the way of foreign government aid coming to Kerala, ravaged by the most devastating floods in nearly a century.
Countries extending aid to nations suffering due to natural calamities for rehabilitation "has been in practice all along and this is only a mutual assistance for relief and rehabilitation work," Mr Narayanasamy told reporters in Puducherry.
A row had erupted after the Centre said it cannot accept donations from foreign governments for flood relief in Kerala as per a long-standing policy. The clarification came after a few reports said that the UAE had offered Rs 700 crore aid to the flood-ravaged state.
Officials of the UAE Embassy in New Delhi, however, said on Friday that no specific amount for financial aid to Kerala has been finalised by the United Arab Emirates.
Mr Narayanasamy said when Nepal was hit by an earthquake in 2015, the Indian government had extended assistance to the country. Hence, the NDA government should avoid putting obstacles in the flow of foreign aid to Kerala, he added.
He said the Puducherry government expects to mobilise Rs 10 crore for contribution to Kerala CM's distress relief fund.
Contributions from government staff, workers in public sector undertakings and others would be around Rs 8 crore of the Rs 10 crore.
The Centre has released Rs 600 crore for Kerala so far.
The death toll due to the flooding has touched 293 since August 8. Fifteen people are still reported missing.
Mr Narayanasamy said former prime minister Atal Bihari Vajpayee, who passed away on August 16, was a non controversial leader who had dedicated his life to the development of the nation, and added, "unfortunately the BJP is trying to gain political mileage and is playing politics with the ashes of the late leader."
He said the government had decided to fix 24 years as the age ceiling for recruitment to police constable posts in response to pleas by candidates.
The cabinet decision to raise the age limit has been placed before the Lieutenant Governor for approval, he added.