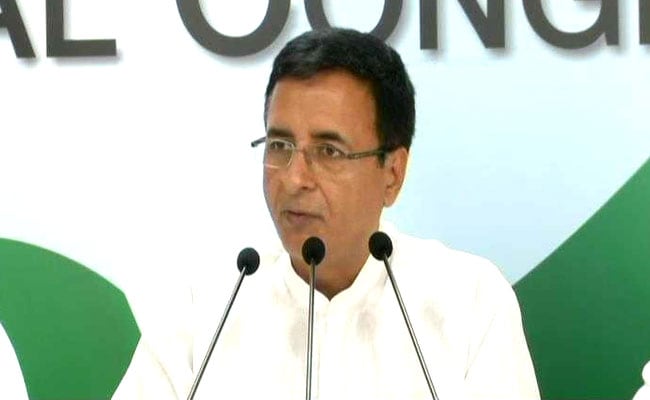 New Delhi:
The Congress today slammed Rajya Sabha Chairman M Venkaiah Naidu's decision to reject the impeachment notice against Chief Justice of India Dipak Misra and said the fight is between forces "rejecting democracy" and voices "rescuing democracy".
All India Congress Committee media-in-charge Randeep Singh Surjewala said that within hours of 64 MPs submitting the impeachment notice, Arun Jaitley, the Leader of Rajya Sabha, had expressed "naked prejudice" by calling it a revenge petition "virtually dictating the verdict" to the Rajya Sabha chairman on that day.
"If all charges were to be proved before inquiry as Rajya Sabha Chairman suggests, Constitution and Judges (Inquiry) Act will have no relevance. Don't muzzle the Constitution," Mr Surjewala alleged.
"Constitutional process of impeachment is set in motion with 50 MP's giving the motion. The Rajya Sabha Chairman cannot adjudge the motion, for he has no mandate to decide the merits of the motion. This is truly a fight between forces 'Rejecting Democracy' and voices 'Rescuing Democracy'," Mr Surjewala claimed.
In a tweet, Congress spokesperson and lawyer Abhishek Manu Singhvi said Vice President Venkaiah Naidu "expectedly" rejected the impeachment motion against Chief Justice Dipak Misra and that too within a day of his return to Delhi.
Welcoming the decision, BJP spokesperson Meenakshi Lekhi said the vice president, who is also the ex-officio chairman of the Rajya Sabha, applied his mind and gave a detailed order.
"I must express my gratefulness to the vice president who has applied his mind and gave a detailed order. The second aspect is regarding the complaint itself. It is a major wrong. The language itself in which it has been drafted says it appears, prima facie it appears, it looks."
"Plus, there is a division on this within the Congress party only goes to show that some vested interests are propagating these kinds of harm to the institution in political interest because they seem to be out of power," Ms Lekhi said.
Mr Naidu today rejected the notice given by opposition parties led by the Congress for impeachment of Chief Justice of India Dipak Misra, citing lack of substantial merit in it.
The NCP, whose MPs also signed the notice of impeachment that was given to the chairman of Rajya Sabha, said he had "erred" while giving the order.
"The chairperson rules that the petitioners (MPs) are not sure about themselves. With respect, I would say that he has erred there because definitely the petitioners, who have moved the petition, are not sure about it and therefore they would want an enquiry," NCP lawmaker Majeed Memon said.
He said the investigation would have examined the extent of truthfulness in those apprehensions.