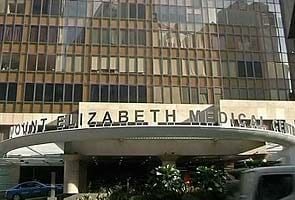 New Delhi:
With Doctors at Mount Elizabeth Hospital in Singapore taking over the treatment of Amanat (NOT her real name), the medical team which had accompanied her will return today.
Sources said that the team of Indian doctors who had accompanied the patient to Singapore late on Wednesday night in an air ambulance have handed her over to the hospital and will be returning to New Delhi on Friday.
Besides a few doctors from Medanta MediCity Hospital in Gurgaon, the head of the Intensive Care Unit of Safdarjung Hospital P K Verma had accompanied Amanat to Singapore.
The sources said the government is also in touch with the Indian Embassy in Singapore which was constantly monitoring her medical condition. Doctors are also in touch with some top medical institutes of the world which are specialists in organ transplantation.
Health Minister Ghulam Nabi Azad said on Thursday morning that she has reached Singapore and as per reports was stable.
"She has been admitted to the Hospital and she is stable," Azad said.
Government would bear the medical expenses while under treatment abroad.
Doctors at the Safdarjung Hospital where she was treated for the past ten days said they gave her the best treatment available.
"We were asked whether the girl would be fit to undergo a six-hour journey. After assessing her medical condition, we said she can withstand the journey," a senior doctor said.
He also suggested that the doctors were just asked to make an assessment whether Amanat can be shifted to a hospital abroad for specialised treatment.
The team of doctors which was attending to her then made an assessment of her condition and even sought the assistance of their counterparts from a private hospital.