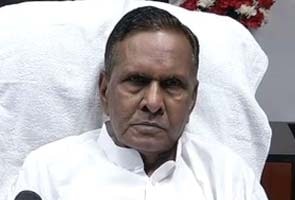 New Delhi:
After meeting with the Prime Minister this afternoon, Union Steel Minister Beni Prasad Verma said that he regrets his remarks on Mulayam Singh Yadav, who is the chief ally of the government and head of the Samajwadi Party.
"I am sorry if my remarks have hurt anybody's sentiments," he told reporters after his brief meeting with the PM.
The Samajwadi Party is yet to confirm if it has accepted the apology.
The opposition, sensing an oppurtunity to pressure the government further joined the SP in demanding Mr Verma's ouster as a minister. "We have differences politically, but such a statement is uncalled for. Government must immediately make a statement on the issue and he should be out of the cabinet," leader of the Opposition in the Lok Sabha Sushma Swaraj said. (
Read: BJP supports SP over Beni Prasad Verma issue
)
The minister had said over the weekend that Mr Yadav has "links to terrorists."
Furious Samajwadi Party members disrupted Parliament yesterday and today, demanding an apology from Mr Verma, and his removal from the cabinet. Mr Verma did not express remorse last night, but said that the controversy was "a closed chapter." Senior ministers had said that the PM would decide on whether to sack him.
The Congress has reprimanded him publicly.
Mr Verma and Mr Yadav both belong to UP.
Mr Yadav's 22 Lok Sabha MPs are more essential than ever for the government's survival. The DMK, the second-biggest member of the PM's government, quit the coalition yesterday. So Mr Yadav's support on crucial votes in Parliament is now indispensable.