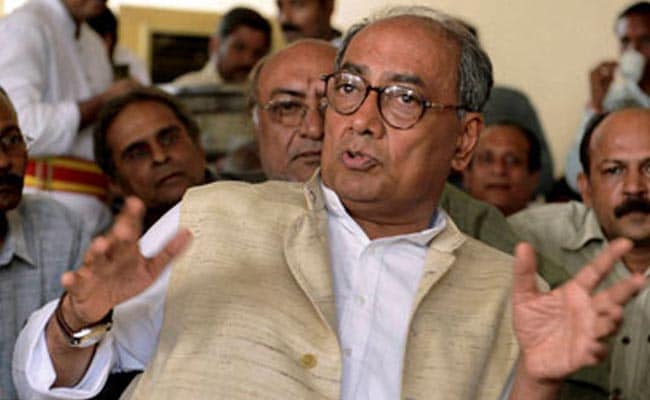 Highlights
Nitin Gadkari filed defamation case against Digvijaya Singh in 2012
Mr Singh had alleged the BJP leader's hand in a coal mine deal
The Congress leader has now expressed regret over his statement
NEW DELHI:
Union Minister Nitin Gadkari, who had sued Congress leader Digvijaya Singh for defamation back in 2012, has withdrawn the case. A joint application for withdrawal of the case was filed by the two senior politicians before Delhi's Patiala House Court, which has been accepted.
Mr Gadkari, who was then the BJP president,
had filed a criminal defamation case
against the senior Congress leader in 2012 for alleging that he had links with businessman Ajay Sancheti and had gotten him a sweetheart deal for a coal mine in Madhya Pradesh because of his close links to Mr Gadkari.
The allegation was made at a time the Congress and the BJP had been trading charges over a coal policy that, according to the national auditor or CAG, allegedly helped private players get windfall benefits of upto Rs 1.86 lakh crores.
News agency ANI said Mr Singh had expressed regret over his statement.
Mr Singh, however, insisted that this wasn't true.
"
Neither I nor Gadkari Ji
expressed regrets. We decided to close the case amicably," the senior Congress leader, who had led
an aggressive campaign against the then BJP president
a few years ago, tweeted, tagging the Union Minister said.
The closure of the case comes at a time Mr Singh, who recently stepped down from the party general secretary's post, has joined the campaign for the Madhya Pradesh assembly elections later this year. Mr Singh heads the Congress's coordination committee in Bhopal.
This is the second defamation case withdrawn by Mr Gadkari in recent weeks.
In the first, he did get an apology from Delhi Chief Minister Arvind Kejriwal who had decided to apology letters to close nearly 30 cases that he and senior AAP leaders faced.
In 2014, Mr Kejriwal had called Mr Gadkari "one of the country's most corrupt politicians" and had been promptly slapped with a defamation case. Four years later, Mr Kejriwal told the court that he had made "unverified allegations" and asked to bring the "court proceedings to a closure".