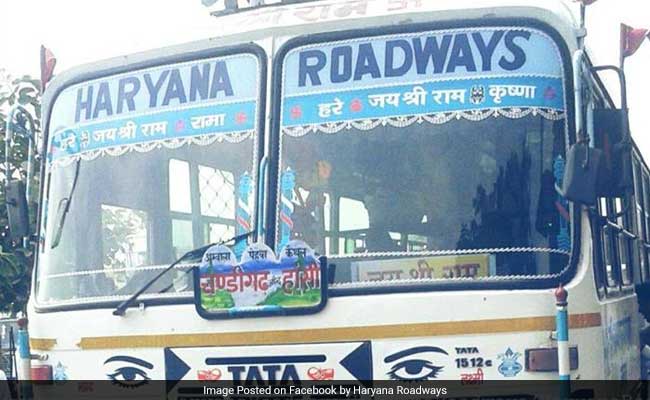 Chandigarh:
A differently-abled mother of two daughters has become the Haryana Roadways' first woman bus conductor, thanks to the ongoing strike by the state roadways employees, forcing the government to launch a recruitment drive for drivers and conductors.
32-year-old Sharmilla, from a village in Rewari district, had been looking for a job for long to support her family and got it amid the ongoing strike, which has turned out to be roadways employees' longest ever.
"Both I and my husband were unemployed. We are raising two daughters. I had been looking for a job for last 8 to 10 years and when I learnt about this vacancy, I applied against it and got the job," she said.
Wearing a pair of jeans and a shirt, Sharmilla has been performing her duties after joining the Rewari depot Wednesday.
"I am very happy now. I am getting good support and respect from the people. They appreciate what I am doing," she said.
Sharmilla said she faces 40 per cent disability in one of her legs, but she has never let it stand in her way.
"I am Haryana's first lady conductor and I am so happy to get this job. I have joined my duties three days ago and have learnt most of the things related to ticketing," said Sharmilla proudly.
Sharmilla is among the two women who were recruited as bus conductors, the other one being Nirmala Rani, who has joined duty on Sirsa-Ellenabad route.
Earlier this year, 30-year-old Archana had become the first and only woman driver of the Karnal city bus service.
The Haryana Roadways employees had Thursday decided to further extend their strike till October 29 as their fresh round of talks with the government failed to make any headway.
The employees are on strike since October 16 against the government's decision to hire 700 buses from private owners.
There are about 19,000 employees in the Haryana Roadways, catering to 12 lakh passengers daily with a fleet of 4,100 buses.