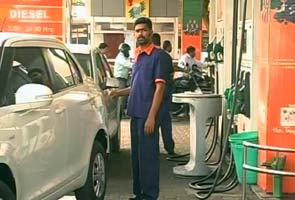 New Delhi:
In a bold reforms decision, the government today partially deregulated diesel price allowing a hike of 40-50 paise a litre per month for retail customers and nearly Rs 11 for bulk consumers, a step that is feared will have a cascading effect on inflation.
In a bid to sweeten the bitter pill, the Cabinet Committee on Political Affairs chaired by Prime Minister Manmohan Singh today raised the cap on subsidised LPG to nine cylinders per household from six, bowing to public pressure.
State-owned oil companies in a parallel move will cut petrol price by 25 paise per litre in view of softening in cost of raw material.
The decision on diesel is expected to cut the subsidy bill by Rs 12,900 crore on account of hike in price of fuel sold to bulk consumers like Railways and state transport undertakings. Diesel accounts for 59 per cent of the estimated Rs 160,000 crore fuel subsidy bill in 2012-13.
An order issued by the Oil Ministry post CCPA decision stated that bulk users be charged market price, that will result in a hike of Rs 10.81 per litre over and above the current rate of Rs 47.15 in Delhi. The government is expected to save about Rs 9,000 crore of raise in price for retail buyers.
"We have given some liberty to oil marketing companies to raise diesel prices in small dozes. They are authorised to make small price correction from time to time," Oil Minister M Veerappa Moily said.
"They should exercise this discretion in such a manner that inflation is not impacted. Also, the entire burden is not put on consumers." Asked what small meant, he said "small means small."
Finance Minister P Chidambaram maintained that the oil companies have been allowed to make "small correction from time to time."
"I am not factoring in at this moment (the price rise). I am proceeding on the basis that the subsidy bill remains the same (as earlier)," he said.
Opposition parties and allies like Samajwadi Party slammed the government's decision on diesel calling it deregulation. Demanding a rollback, they said the decision to allow periodic hike in diesel prices would have an all-round spiralling effect on commodity prices and transportation cost.
They were not impressed by the decision to raise the cap on LPG cylinder calling it is a political gimmicks.
Price of diesel, which was last revised on September 14 when it was hiked by a steep Rs 5.63 per litre, would raised in small dozes of 40-50 paise, excluding local levies like VAT, every month to make up for the whopping Rs 96,000 crore loss at current rates.
While the cut in petrol prices is likely to come into effect from midnight tonight, the increase in diesel rates may be effected over the weekend.
Sources said diesel price for bulk users in Delhi would be Rs 57.96 a litre and it would be revised on 1st and 16th of every month based on previous fortnight average oil cost. The same is the methodology followed for pricing of jet fuel (ATF).
Officials and ministers refused to call the CCPA's decision as deregulation but experts felt that this could be the beginning of such a course.
Mr Moily said the decision to decontrol diesel was taken in June 2010 but was not implemented. "We have now given the liberty to oil marketing companies to go for small increases. We have taken the first and decisive step. When it is to be totally deregulated, has been left to the oil marketing companies," he said when asked whether today's decision would amount to complete deregulation or partial deregulation.
Finance Minister P Chidambaram refused to enter into a discussion on the issue.
However, LPG and kerosene rates will not be changed. There are indications that price of non-subsidised LPG, which has been frozen in November, will be allowed to come up to market levels.
Diesel, which currently costs Rs 47.15 per litre in Delhi, is currently sold at a loss of Rs 9.60 a litre.
Subsidised LPG costs Rs 410.50 per 14.2-kg cylinder and any household requirement beyond the new cap of 9 cylinders is to be bought at near market price of Rs 895.50 per bottle. After today's decision, consumers will get 5 subsidised cylinder instead of 3 in the period to March 31, 2013. From April 1, 2013 they will get 9 cylinders in a year.
The increase in cap would mean an additional subsidy outgo of Rs 9,300 crore annually.