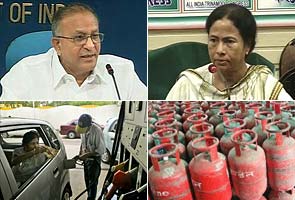 New Delhi:
The government has approved a price hike for diesel, LPG and kerosene. Diesel prices will increase by Rs 3 a litre, and LPG would cost Rs 50 more per cylinder. Kerosene prices have been increased by Rs 2 per litre. The hike in prices is exclusive of Value Added Tax (VAT).
The Empowered Group of Ministers (EGoM), headed by Finance Minister Pranab Mukherjee, met on Friday evening and sanctioned the new prices.
Customs duty has been removed for crude oil and all petroleum products; and excise duty on diesel has been reduced to Rs 2 from Rs 4.60 per litre. This will result in a revenue loss of Rs 49,000 crore for the government for the current financial year (2011-12).
Mamata Banerjee and her Trinamool Congress -a senior partner in the UPA coalition - have said they don't support the fuel price hike. "They have raised price of petrol several times. Not once, many times in one year. Diesel is also needed for farming. The government must think many times before raising price of diesel, gas and kerosene. We (Trinamool Congress) are not supporting this price rise. We are with the people, " said Ms Banerjee.
Describing the price hike as "moderate", Petroleum Minister S Jaipal Reddy said, "I am sandwiched between economists and populists."
"Diesel, without this increase, was to cause a loss of Rs 1 lakh crore. Even now only Rs 1500 crore will be covered," Mr Reddy said noting that this increase may have an "inflationary impact". The Oil Minister said he hoped states would cut levies on petroleum products to give relief to consumers.
The new prices are aimed at helping state-owned oil firms. Because prices of fuel are below market rates, they currently lose Rs 15 per litre on diesel, Rs 27 per litre on kerosene and Rs 381 on the sale of the average domestic-use gas cylinder. Oil Marketing Companies (OMCs) will now be able to reduce their under recoveries - which stood at Rs 1,71,140 crores - by Rs 21,000 crore.
Earlier this month, Mr Reddy met Mr Mukherjee and Prime Minister Manmohan Singh to discuss the financial condition of the OMCs. Indian Oil, Bharat Petroleum and Hindustan Petroleum purchase crude oil at market rates but are required to sell diesel, kerosene and liquefied petroleum gas (LPG) at government-subsidised prices, resulting in losses that run into thousands of crores.
Diesel prices were increased by Rs 2 in June 2010. LPG prices were raised at the time by Rs 35 per cylinder.