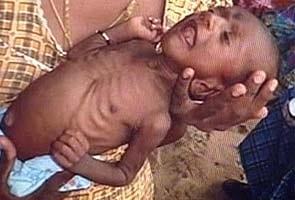 Gandhinagar:
A political controversy has broken out over a Congress advertisement ahead of the next month's crucial elections in Gujarat. The advertisement which talks about the malnutrition figures also shows a picture of a malnutritioned child.
The Bharatiya Janata Party (BJP) has alleged that the picture shown in the advertisement was that of a Sri Lankan refugee camp shot by a UNICEF photographer.
The advertisement has now gone viral on the net with pro and anti-messages about it dominating the cyber space.
The Congress has downplayed the controversy saying that rather than focus on the picture, the BJP should counter the figures given in the advertisement.
Polling will take place in Gujarat in two phases on December 13 and 17. The counting of votes will take place on December 20.