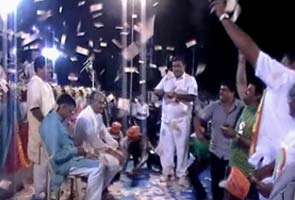 Junagarh, Gujarat:
A diamond trader tossed notes worth over a crore rupees into the air at a popular folk song programme organised by the BJP in the Talala village in Gujarat's Junagarh district on Saturday.
The programme, called Daira, was organised by some builders to raise fund for cow protection. The builders from Surat, Rajkot and Ahmedabad organised the event to raise funds in view of water scarcity in the region.
It was attended by many BJP leaders, including state chief R C Faldu, Minister of State for Home Rajibhai Patel and Environment Minister Govind Patel.
While the organisers claim that it was a traditional practice, the Opposition has criticised the BJP for the event as the programme was organised in the Saurashtra region, where almost 4,000 villages are reeling under acute water shortage.
Saurashtra is a drought prone region and received very poor rains last season. Nine hundred villages are now drought-hit and 2,979 more are under partial drought.