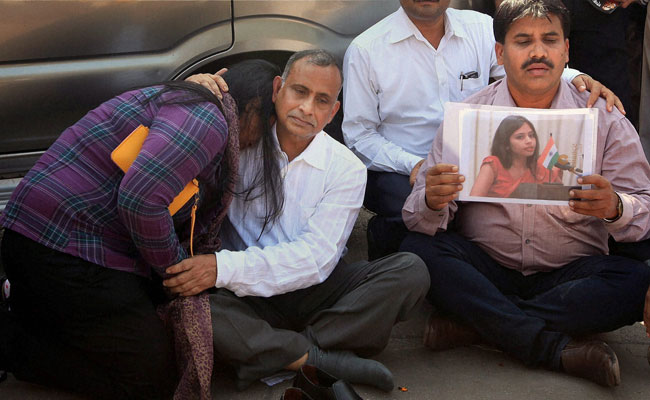 New Delhi:
India today asked the American embassy in New Delhi to stop all commercial activities including a restaurant, bar and parlor on its premises by January 16, continuing its unrelenting diplomatic offensive against the US over the arrest of diplomat Devyani Khobragade.
All US embassy and diplomats' cars will also be firmly dealt with under local traffic rules and policemen have been ordered to make no exception.
The embassy has been told to shut down a club within the premises which includes a bar, pool, parlor, restaurant, bowling alley and tennis court. Outsiders have till now been allowed in the club, a violation of the Vienna Convention that India is no longer prepared to ignore, said officials.
This comes on top of a slew of retaliatory measures taken by India to mount pressure on the US to drop charges against Devyani Khobragade, who was arrested in New York last month for alleged visa fraud and subjected to a humiliating strip search. She is facing a January 13 deadline for indictment.
US diplomats in consulates across India were ordered to give back identity cards that came with special privileges. American diplomats were also stripped off airport passes and import clearances. Barricades outside the sprawling US embassy in the capital were also removed.
India has sought an apology and asked the US to withdraw the charges against the 39-year-old diplomat. (
Can't be business as usual, says India; US hopeful of resolution
)
Indian Foreign Secretary Sujatha Singh on Monday reportedly told US Ambassador Nancy Powell that it cannot be "business as usual" between the two sides till the issue is resolved.
Ms Khobragade was transferred to India's Permanent Mission to the UN, but she is yet to receive a clearance from the US. The Americans are yet to grant her the G1 visa that means full diplomatic immunity.
The diplomat was arrested on December 12 on charges of lying on the visa application for her domestic help Sangeeta Richard, and paying her far less wages than what was agreed upon. India has accused the US of immigration fraud by trying to move Ms Richard's family to America.