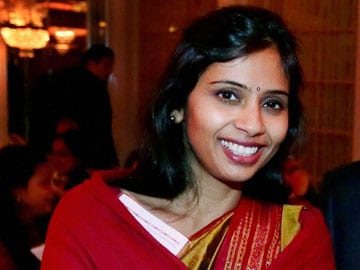 Washington:
The US has expressed hope of arriving at a resolution of the Indian diplomat Devyani Khobragade issue, which has resulted in "hiccups" in the India-US bilateral ties.
"Absolutely" the State Department Deputy Spokesperson, Marie Harf, told reporters at her daily news conference yesterday, when asked if the US was hopeful that the issue would be resolved.
This comes in the wake of strong Indian statement to the US that it cannot be "business as usual" between the two sides till the issue is resolved.
Foreign Secretary Sujatha Singh, conveyed this to US Ambassador Nancy Powell when she met her at South Block in New Delhi yesterday.
The US and Indian officials are believed to be working on both the diplomatic and judicial front to arrive at an amicable resolution of the issue, with US officials insisting that law would take its own course.
"As I've said, many, many times throughout this whole ordeal, that we don't want this to define our relationship going forward and don't think that it will," Ms Harf said noting that the US does not want India-US ties to be affected by the arrest of the Indian diplomat in New York last month on visa fraud charges.
India has sought an US apology and withdrawal of charges against Ms Khobragade.
The US, however, insists that this is an isolated incident.
"If you look throughout the region, if you look at Afghanistan, if you look at energy issues, economic issues, we have a whole host of things we work together on."
"And those are very important and shouldn't be derailed by this incident. And that's why, again, we are putting the process forward. We're setting that aside," she said.
She said that the US is "letting it (this entire episode) run its course" and was focused on "where to go from here because, as we've always said, the relationship with India is incredibly important."
"It's vital, and that's what we're focused on," the State Department Deputy Spokesperson said.
Emphasising that the US-India relation is multi-faceted to be affected by this incident, Ms Harf said: "We say the same thing privately that we say publicly: that there's a lot of work we have to do."
"There's a lot of business we have to get done together, a lot of issues we work very closely on economically, diplomatically, and that's what's important to us and that's what's important to do moving forward, and I have no reason to think that that won't be the case."
"We want it to be resolved as soon as possible. Certainly, that's our goal, but we're only part of this process."
She, however, underlined that the issue has diplomatic and judicial components to be resolved separately.
"We're the diplomatic part that focuses on the relationship and all the issues we work together on. There is a separate judicial and legal process that is working its way through right now. There is a reason we have these processes, and hopefully that will work itself out soon as well, but I don't want to get ahead of that process, and certainly don't want to speak for it," she noted.
Meanwhile, US is still reviewing the paper work with regard to the transfer of Ms Khobragade to the India's Permanent Mission to the UN, which would give her full diplomatic immunity.
"We've received the request for change and accreditation, but the process is ongoing, and no official decision has been made yet to do that.
"So there is no change in her status as of this point. Hopefully we can get a resolution to it," she added.
She refused to comment on media reports about email communications between the State Department and Indian diplomats according to which the US had initially agreed to deport Sangeeta Richard, Ms Khobragade's domestic help, to India.
"I'm aware of those press reports. As I've also said repeatedly, the State Department's been in regular contact with the government of India on this issue.
"Don't have further comment for you on diplomatic communications, but suffice to say what we're focused now is moving this forward, getting some resolution and focusing on the relationship," Ms Harf said in response to a question.
A 1999-batch IFS officer, Ms Khobragade was arrested on charges of making false declarations in a visa application for her maid Sangeeta Richard. She was released on a $250,000 bond.
India has been demanding the withdrawal of the case against her and an apology from the US for the treatment meted out to the 39-year-old diplomat, including a strip search and detention with criminals after her arrest on December 12.