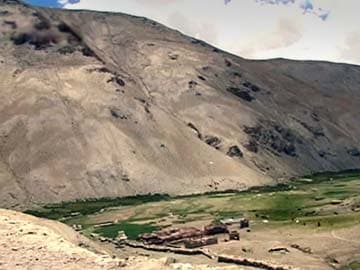 New Delhi:
Soldiers of China's People's Liberation Army, who entered Chumur in Ladakh earlier this week, have remained on Indian territory, sources told NDTV. (
India Takes Tough Stance With China On Border
)
To combat the worst such incursion in years, India had also sent 1,500 soldiers, leading to an unprecedented face-off at the border. The Indian side, say sources, are prepared for a long haul. (
Stronger China Not a Threat to Anyone: Xi Jinping
)
No immediate flag meeting has been planned between the two sides to resolve the face-off, they said.
The Chinese troops have not withdrawn despite the reported assurance by Chinese President Xi Jinping -- who concluded his three-day visit to India on Friday -- to Prime Minister Narendra Modi over the issue. (
Need to Clarify Border, Resolve Dispute Quickly, Says PM Modi Amid Border Stand-off
)
President Jinping reportedly told PM Modi during talks on Thursday that he had ordered his country's troops to back down from an eyeball-to-eyeball confrontation at the border, sources had told NDTV.
Sources said when PM Modi raised Chinese incursions at Ladakh for the second time in two days, President Xi told him he had directed the troops to pull back.
Chinese soldiers entered a week ago at Chumur, which stands at the intersection of the international border and the Line of Actual Control or the de facto border between the two countries. They allegedly brought in in heavy construction equipment and a large labour force to set up a road up to the border.
Two days ago, there were signs of disengagement when troops on both sides fell back by about a kilometre. But since then, each army has been holding on to its respective tactical position; they are currently using loudspeakers to communicate with each other, said sources.
The last flag meeting between India and China, conducted by a brigadier of the Indian Army and a senior colonel of the PLA, was held three days ago.
India has demanded such a meeting at a higher level but since the issue has been taken up at a political level, chances of such a meeting seem to be remote, say sources.