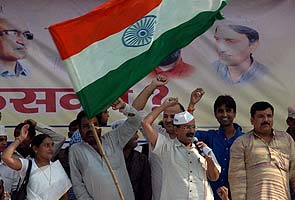 Farrukhabad:
It may not have been a smooth ride to Farrukhabad, but when Arvind Kejriwal finally got there to address a rally of around five thousand people, the activist-turned-politician got straight down to business. "Salman Khurshid had threatened us about this trip. Well, we are here. And we will return safely in a few hours," he said.
This is Mr Khurshid's constituency that lies at the heart of a controversy of irregularities that the minister's family-owned trust has been accused of.
Mr Kejriwal has been demanding Mr Khurshid's removal and arrest ever since a TV channel carried a detailed report, alleging that an NGO headed by the minister and run by his wife embezzled lakhs meant for the differently-abled.
When Mr Kejriwal first announced his plans to travel to Mr Khurshid's turf in Uttar Pradesh, the union minister had warned, "Let him go. But we will see how he comes back."
This threat by Mr Khurshid was later withdrawn. But the message had already been driven home to his loyalists in Farrukhabad. En route to the venue of today's rally, Mr Kejriwal's convoy was blocked briefly by supporters of the minister. Before he arrived at the venue, there was tension in the air and flash-points across the city were waiting to erupt.
Mr Kejriwal was given police escort that steered him away from the trouble spots in Farrukhabad. But despite elaborate police arrangements, there were clashes between Congress workers and members of the Bharatiya Kisan Union, an organisation of farmers that is supporting Mr Kejriwal. The windows of a car were smashed by Congress workers as it headed towards the rally ground. The car was packed with farmers heading to the rally; violence that the police calls sporadic but which broke out dangerously close to the rally site minutes before Mr Kejriwal's arrival.
When he finally delivered his speech, two hours late, Mr Kejriwal admonished, "People who don't earn very much donate money for the differently-abled. But here, a minister is stealing from them?" He also rebuked the government for promoting Mr Khurshid to the Foreign Affairs Ministry in Sunday's cabinet reshuffle.
Sharing the stage with the physically challenged who he claimed figured in the lists submitted by Mr Khurshid's trust, Mr Kejriwal paraded them one by one to show how they only benefited on paper.
"Will you vote for him again?" he challenged the audience. Some people shouted they wouldn't. "You won't forget? Promise you won't forget this in two years?" Mr Kejriwal asked, referring to the general elections scheduled for 2014.
The minister, who is in Delhi, refused to comment on Mr Kejriwal's rally today.
His supporters wore caps that declared
main hoon Salman Khurshid
-a sartorial rebuttal to Mr Kejriwal's trademark cap that says
main aam aadmi hoon
(I am a common man).