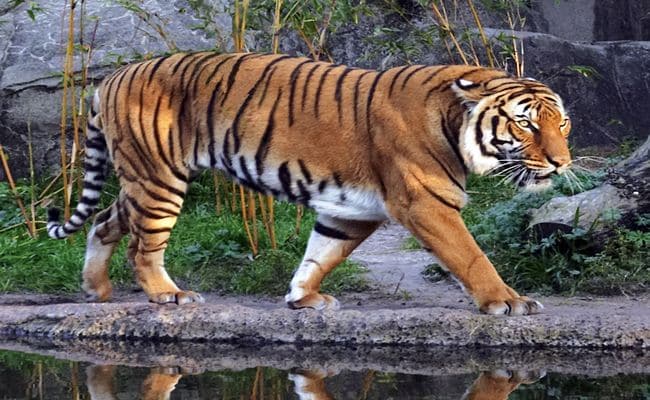 Kochi:
Despite the growth in population of tigers in the country and elsewhere, a global report has warned that the big cats are still not out of the woods due to shrinking forest land which are converted into motorways and other infrastructure that cut through their habitat.
The report "Fierce but Fragile: Coexistence in a changing world" released by the International Union for Conservation of Nature (IUCN), also identified human-wildlife conflict as a key problem in the Terai regions of India and Nepal and stressed on well-developed conservation programmes.
"In the future, situation for tigers could worsen as land is converted into industrial-scale palm oil plantations, and motorways and other infrastructure cut through tiger habitats.
This leads to isolated and fragmented tiger populations which suffer from social and genetic problems," it said.
The report said if the conservation efforts succeed in boosting tiger numbers and human populations continue to grow, the potential for conflict between tigers and humans would only increase and needs to be managed.
The problems tigers face exemplify those facing many wildlife species today, including elephants, rhinos and lions.
Squeezed into ever-shrinking habitats, these large, charismatic and often dangerous animals no longer live separately from humans, but need to learn to co-exist with them, it said.
Observing that tigers need to breed and hunt in relatively undisturbed core areas, the report said they also pass through land used for agriculture, commercial forestry or inhabited by forest communities.
"Here, inevitably, they come into contact with people. With shrinking forest cover and fewer prey, tigers may end up hunting livestock and are often killed or captured in retaliation," it says.
The report comes at a time when the latest global census showed an increase in the number of tigers in the wild. The animals, confined to a limited space, are increasingly competing with humans for resources.
Wildlife conservation groups estimate that there are some 3,890 tigers in the wild across the world as against more than one lakh in 1900.
India is home to more than half of the world's big cats in the wild. According to the latest 2014 census, the country has 2,226 tigers in the wild across the country, a 30 per cent increase over the 2010 estimation of 1,706 tigers.
Conservation helps to effectively manage protected areas and habitats, which in turn safeguards a range of different species, ecosystems and the services they provide to people besides improving living standards of local communities.
IUCN says its Integrated Tiger Habitat Conservation Programme (ITHCP) aims to ensure the survival of tigers in the wild by working with local communities to reduce human-tiger conflict and the over-exploitation of forests, as well as managing tiger habitats and combating poaching.