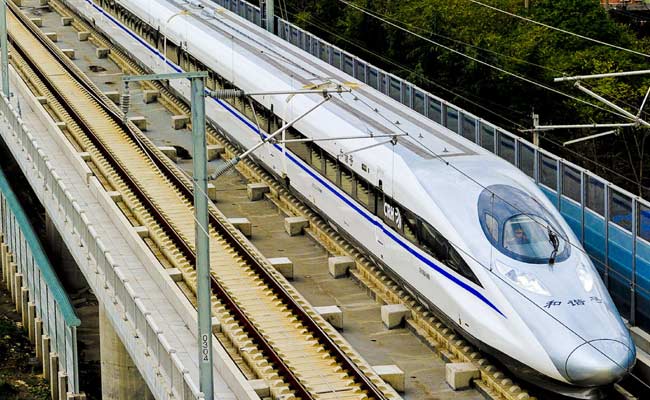 New Delhi:
Delay in acquiring land for the upcoming Mumbai-Ahmedabad high-speed rail corridor project may push back the date of its launch, but the Railways is going ahead in finalising the various components of the bullet train's rolling stock and passenger facilities.
Passengers will get a dedicated room for child feeding, there will be facilities for sick persons and washrooms for men and women would be separate -- all these being firsts on the Indian rail network. Each train will have 55 seats will for business class and 695 seats for standard class. There will be luggage space for passengers.
The E5 Shinkansen series bullet trains to be pressed into service will also have baby changing rooms comprising baby toilet seats, tables for diaper disposal and a low sink for children for washing hands.
There will be also two extra-spacious toilets for wheelchair-bound passengers in the 10-coach high-speed train.
According to the blueprint finalised by the Railways, the 750-seater E5 Shinkansen, a new generation Japanese high-speed train, will also introduce wall mounted type urinals for men, according to a senior Railway Ministry official involved with the Rs 1 lakh crore project.
Urinals and toilets will be installed in alternate coaches in the train. For example, toilets will be installed in coach number 1, 3, 5, 7 and 9 while urinals will be available in coach number 2, 4, 6 and 8. Washrooms for men and women will also be placed in a similar way.
Coaches will have comfortable automatic seat rotation system.
There will be a freezer, hot case, boiling water facility and tea and coffee maker in the train while a hand towel warmer will be provided in business class.
Coaches will have LCD screens to display current station, next stopping station and destination, schedule and expected time to reach next stop and destination stations.
Railways is gearing up to acquire 25 E5 series bullet trains from Japan at an estimated cost of about Rs 5,000 crore for the Modi government's first bullet train project.
Most of the Mumbai-Ahmedabad corridor will be elevated, except for a 21 km underground tunnel between Thane and Virar, of which 7 km will be under the sea.
The undersea tunnel was chosen to avoid damaging the thick vegetation present in the area, said the official.
The corridor will begin at the underground station in the Bandra-Kurla Complex in Mumbai, and then traverse 21 km underground before emerging above ground at Thane.
The bullet train is aerodynamically designed with a long nose. When a high speed train exits a tunnel a blasting sound is generated due to micro pressure waves. To reduce this micro pressure, the front car is designed with a nose section, said the official.
The coach body is pressurized to avoid discomfort to passengers due to drop in pressure inside the passenger cabin tunnel.
The bullet train will take about 2 hours and 7 minutes to travel the 508-km distance between Mumbai and Ahmedabad.
JICA has agreed to fund 81 per cent of the total project cost through a 50-year loan at an interest rate of 0.1 per cent and a moratorium on repayments up to 15 years.
Indian Railways will invest Rs 9,800 crore in the high-speed rail project and the remaining cost will be borne by the state governments of Maharashtra and Gujarat.