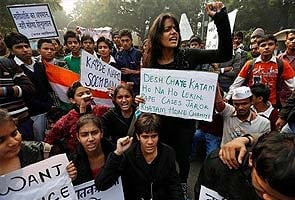 New Delhi:
Abhijit Mukherjee, the son of President Pranab Mukherjee, has derided the massive recent protests in Delhi against the gang-rape of a young woman, stating that they did not appear to involve students.
"Women who are participating in candle-light vigils and those who are protesting have no connection with ground reality. These pretty ladies coming out to protest are 'highly dented and painted'," he said in an interview to the ABP news channel in Bengal
(Watch)
. "I have my doubts...how many of these women are students...women in these age groups are generally no longer students."
(Comment here)
Mr Mukherjee later offered an apology as his remarks invited severe criticism. "The remarks were regarding whether I thought it was a students' protest. They were not meant to hurt anyone. I apologise unconditionally," he told NDTV.
His sister, Sharmishta, earlier told NDTV, "If he has said this, I apologize on his behalf. As a family, we do not agree with his remarks."
After his father became president of the country, Mr Mukherjee contested his parliamentary seat Jangipur in Bengal and won by a slender margin.
After a medical student was raped by six men on a bus in Delhi on December 16, India has witnessed large demonstrations protesting against the savage attack on her and demanding a more effective legal system and better safety in the capital, known as one of the least safe cities in the world for women.
Over the weekend, protests in Delhi turned into violent clashes with the police; a constable trying to control the crowd died of his injuries. President Mukherjee said recently that though public anger is justified, protests should be peaceful.
The student whose case has shocked and angered India was flown on an air-ambulance to Singapore last night. She is reported to be stable at a super-specialty hospital known for its expertise in multi-organ transplant.