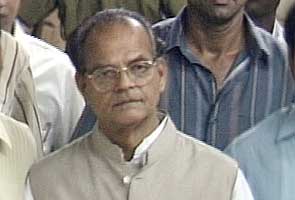 New Delhi:
The Delhi High Court has upheld the conviction of former Union Telecom Minister Sukhram in connection with a case relating to a telecom equipment scam in 1996.
A lower court had, on July 5, 2002, convicted the 86-year-old former minister and two others, ex-Deputy Director-General of the Department of Telecom (DoT) Runu Ghosh and P Rama Rao, Managing Director of Hyderabad-based Advanced Radio Masts (ARM), under various provisions of the Prevention of Corruption Act. The lower court had also imposed a fine of Rs one lakh each on them.
While Sukhram and Mr Rao were awarded three-year jail terms, Mr Ghosh was sentenced to two years of imprisonment in the case. However, the lower court had granted them interim bail which was later extended by the High Court during the pendency of their appeals.
The former minister and others were held guilty for being part of a criminal conspiracy to defraud the state exchequer of Rs 1.98 crore by awarding the contract to ARM which had supplied inferior equipment at a higher rate to the Department of Telecom (DoT).
The High Court has now asked the trio to surrender before the lower court on January 5 to undergo sentencing.