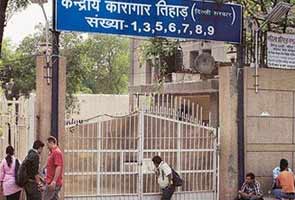 New Delhi:
In a huge security lapse, Ram Singh, one of the six men accused of brutally gang-raping a medical student in a moving bus in Delhi last December, has allegedly committed suicide at Tihar Jail, where he was lodged. His body was found at around 5 this morning in Jail Number 3.
Delhi Police sources say they discovered Ram Singh's death through television reports. Tihar Jail officials did not inform them of the suicide for nearly three hours. Jail sources say he was rushed to hospital to see if he could be revived by doctors.
(Read: 10 developments in the case)
Prison officials said Ram Singh used a wooden stool to hang himself with his own clothes from a ceiling grille. A magisterial inquiry has been ordered into how the 35-year-old managed to kill himself despite being under a "suicide watch" that meant additional security round the clock.
Latest reports say he was not lodged in isolation, but in a secure 12 feet by 12 feet cell with three to four other inmates, and a guard posted outside at all times. Yet, a senior official told PTI, "nobody came to know about it."
Ram Singh's lawyer and family allege that he has been killed. His lawyer, AP Singh, said, "It is not a suicide case. It is a conspiracy and murder." His family has sought a Central Bureau of Investigation or CBI inquiry.
(Read)
The body of the accused is still at Tihar Jail and the magistrate will decide which hospital it will be sent to for an autopsy. Right now, the Crime Branch and a forensic team are at Tihar and other convicts are being questioned. The home ministry has sought a detailed report. Delhi's Chief Minister Sheila Dikshit met Home Minster Sushil Kumar Shinde. She refused to comment on the incident till the magisterial inquiry submitted its findings.
The fast-track court trying Ram Singh and four other adults accused in the case had rejected a petition to shift their trial out of Delhi, but they had been given extra security after their lawyers pleaded that they were at risk from other prisoners in jail. They were also escorted to the Saket court across town for hearings by about 20 to 30 gun-wielding policemen. The lawyers had argued that other inmates were aware of reports of the savagery of the way in which the student was attacked, and regularly threatened and tried to assault the suspects.
Ram Singh, described as a man prone to violence and mood swings,
(read)
was the driver of the bus in which six men inflicted a horrific assault on 23-year-old student Amanat (Not her real name) on December 16 last year. She died in a Singapore hospital 13 days later. Like Ram Singh, his brother Mukesh and three other men were charged with rape, assault and murder and are being tried by the fast-track court. The sixth accused is a minor and is being tried separately by the Juvenile Justice Board.