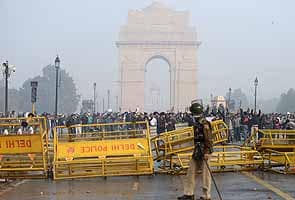 New Delhi:
A government-appointed three-member committee, headed by former Chief Justice of India J S Verma, has begun work on reviewing laws to provide speedier justice and enhanced punishment in sexual assault cases. The committee, set up by the government, will give its recommendations to amend the law in 30 days, RPN Singh, Minister of State for Home said today.
Mr Singh also said, "A Parliament session will be convened when a law is ready to be passed, after Justice Verma's committee's recommendations."
The committee was set up after widespread criticism and anger over the gang-rape in a moving bus of Amanat (NOT her real name) in New Delhi on December 16.
The Delhi Police says that the chargesheet against the six accused in the gang-rape case of the 23-year-old student will be filed within a week. The Chief Justice of the Delhi High Court, D Murugesan, has confirmed to NDTV that five fast-track courts will start functioning in the first week of January 2013.
These courts will be notified as soon as the Delhi High Court opens after vacation on January 2. There will be day-to-day hearings of all rape cases, including the gang-rape incident, and there will be no adjournments. Chief Minister Sheila Dikshit met the Chief Justice of the Delhi High Court and Home Minister Sushil Kumar Shinde today to discuss and finalise the setting up of fast-track courts to hear rape cases.
Agitations against the government's response to the horrific case and police excesses against protestors demanding justice for the victim and better security for women continue in New Delhi.
The Prime Minister made a brief televised statement this morning appealing for calm, but it has done little to reassure the public. Meanwhile, the condition of 'Amanat' continues to be critical but stable.