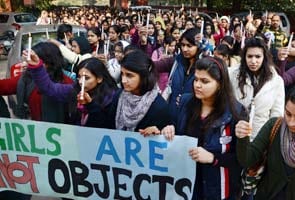 New Delhi:
Congress chief Sonia Gandhi and Vice President Rahul Gandhi met family members of the medical student, who was brutally gang-raped on a bus in Delhi in December. The meeting came a day after the government brought an ordinance providing for tough punishment to rapists.
Mrs Gandhi and Rahul drove to the residence of the family and met them for over an hour.
Family members of Amanat (NOT her real name) reportedly told the Congress leaders that the proposed law on crimes against women should be such that there should be no recurrence of such an incident.
Mrs Gandhi reportedly hugged Amanat's mother and was visibly moved as the parents narrated their struggle to educate their children.
Rahul interacted with Amanat's brothers and reportedly also gave his phone number to them.
The Congress leaders visited their residence after Amanat's father had two days ago sought a meeting with Sonia Gandhi to press for quick action on Justice Verma Committee's recommendations on a law with focus on crimes against women.
Sources said there was no demand from the family members who thanked the two leaders for government's decision to promulgate the ordinance.
Congress spokesperson Renuka Chowdhary and Mahabal Mishra, party MP who represents West Delhi, were also present during the 70-minute meeting.