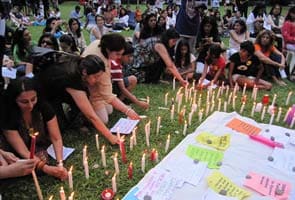 New Delhi:
Three doctors from Singapore will start testifying via videoconference today in the fast-track court in Delhi that's trying five men for the fatal gang-rape of a student on a moving bus. The attack triggered nationwide protests and calls for tough new anti-rape laws, which were introduced by the government last month, and must be cleared by Parliament within the next five weeks.
The doctors from Singapore's Mount Elizabeth Hospital began treating 23-year-old Amanat (NOT her real name) after she was moved on an air ambulance from Delhi, where her condition was deteriorating in a state-run hospital. She had arrived in hospital with large parts of her intestines exposed, the result of being assaulted over and over with an iron rod on the bus before she was raped. There were bite marks on her body.
One of the doctors who will testify from Singapore prepared an ortho-dental report that confirmed the bite marks matched most of the men arrested. One of them, who is 17, is being tried separately by a juvenile court. The trial of the five adult suspects has been declared off-limits to the media.
Another doctor from Singapore will testify about the autopsy report he prepared when Amanat died on December 29.
All three foreign doctors will also be cross examined by defence lawyers.
The student's family has demanded the death penalty for all the six suspects.