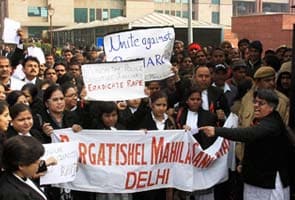 New Delhi:
Rape, murder and destruction of evidence were among the charges filed today in a South Delhi court against five men accused of raping a young woman on a bus in Delhi last month, and hitting her boyfriend and her with a metal rod, before discarding them on the road.
Public Prosecutor Rajiv Mohan requested the court that the trial be held in-camera and that the identity of the student and her family be protected.
Some documents were handed over by the police in a sealed cover - sources described these as "sensitive documents" including DNA and forensic reports that link the five arrested men to the crime.
(Read)
A sixth, who claims he is 17, is in a juvenile home and is likely to be tried separately unless medical tests confirm he is 18 or older.
The depravity of the assault, the woman's courageous fight for her life in hospital, and her death provoked huge protests in Delhi and other cities, with students and others demanding better safety for women and stricter anti-rape laws.
(Sign petition for women's safety)
Lawyers at the district court in New Delhi have decided they will not defend the suspects, meaning the government will have to appoint advocates for them.
The men charged are Ram Singh, 33, the bus driver; his brother Mukesh Singh, 26, who cleans buses for the same company; Pavan Gupta, 19, a fruit vendor; Akshay Singh, 24, a bus washer; and Vinay Sharma, 20, a fitness trainer. They did not appear in court.
Indian Chief Justice Altamas Kabir said the accused should be tried swiftly, but cautioned that they needed to be given a fair trial and not be subjected to mob justice.
"Let us not lose sight of the fact that a person is presumed innocent until proven guilty," he told reporters on Wednesday, while inaugurating the new fast-track court. "Let us balance things. Let us not get carried away. Provide justice in a fair but swift manner so that faith of people is once again restored that the judiciary is there behind the common man.