Highlights
Nirmala Sitharaman promoted to the cabinet, made Defence Minister
Appointment shows 'India won't stop promoting women': Sitharaman
Ms Sitharman is India's first woman Defence Minister after Indira Gandhi
New Delhi:
Nirmala Sitharaman, who was promoted to the cabinet today as the country's next Defence Minister, said it was a "big message" to the world and the country will "never stop promoting women". Ms Sitharaman is
India's first woman Defence Minister
after Indira Gandhi, who handled the portfolio during her tenure as the Prime Minister more than 30 years ago.
Calling her appointment a matter of "cosmic grace", Ms
Sitharman
said it also sent a "big message to the world of what's the status of women in India... This country will never stop promoting women". Referring to the other woman minister she would follow in the crucial Cabinet Committee for Security, Ms Sitharaman said, "Sushma ji paved the way and now I have a responsibility to fulfill'.
The 58-year-old Rajya Sabha member takes charge of the crucial ministry from Arun Jaitley, who has been saying for some time that he would like to focus entirely on the Finance Ministry.
There has also been concern, given the aggravated tension with Pakistan and China, about the lack of a full-time defence minister. There are huge tasks as well, with the armed forces embarking on key initiatives like a military modernisation programme that's estimated to cost $150 billion to fully equip the armed forces; and domestic production of defence equipment, which is also a part of Prime Minister Narendra Modi's Make In India plans.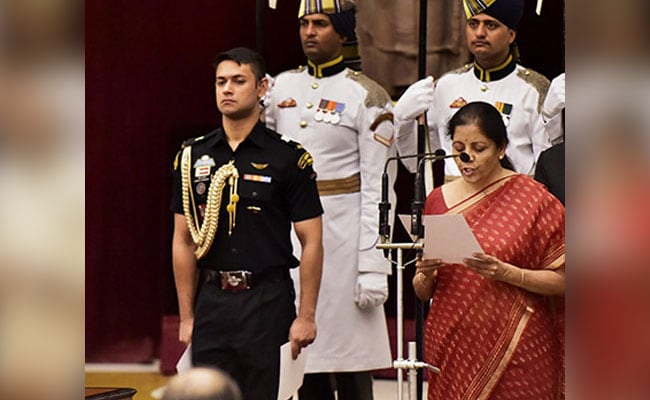 Mr Jaitley, who is leaving tonight for a defence ministers' meeting in Japan and will hand over charge once he is back, hailed the appointment. "Both ladies in the CCS have established their competence... both are recognised as ladies with substance, who have earned a front-line position for themselves," said the minister, who is also a member of the CCS along with Home Minister Rajnath Singh and Prime Minister Narendra Modi.
Ms Sitharaman said she felt a "bit nervous, filling in the shoes of Mr Jaitley."
"Somebody who has come from a small town, grown into the party with all the support of the leadership, and if given such responsibility... it just makes you feel sometimes that cosmic grace is there. Otherwise it is impossible," she had told reporters after taking oath this morning at Rashtrapati Bhavan.
So far, 18 of 51 European nations have had women defence ministers, starting with the appointment of Elisabeth Rehn in Finland in 1990. Norway had five women defence ministers, Sweden three. Closer home, Pakistan's Benazir Bhutto had handled the defence portfolio when she was the premier. So did Khaleda Zia of Bangladesh. Bangladesh's current Prime Minister Sheikh Hasina is also the nation's defence minister.