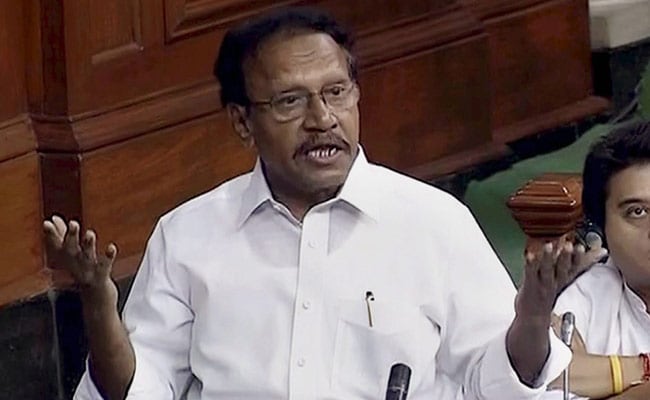 New Delhi:
AIADMK leader M Thambidurai, who is also Deputy Speaker of the Lok Sabha, today demanded that all Indian languages be called national and that official status be granted to these.
Speaking in the Lok Sabha during a discussion to mark the 75th anniversary of the Quit India movement, he said people from all languages had fought for the freedom of the country and it was Parliament's "bounden duty" to treat each of them equally, instead of giving priority to any one language.
The remarks of Mr Thambidurai, MP from Tamil Nadu, came amid claims of some opposition parties that the BJP government at the Centre was pushing use of Hindi in southern states, where language has long been a sensitive issue.
He read from a newspaper the pledges proposed by Prime Minister Narendra Modi and said he wanted to add some.
"Let us pledge to see that all our languages are called national languages and not regional languages. Let us pledge to see that all languages, including Tamil, Telugu, Bengali, etc. are recognised as official languages of this country," he said.
Apparently to make a point, he earlier began his speech in Tamil which could not be understood by most lawmakers as the AIADMK member had not informed the Speaker's office in advance, a requirement so that arrangement for real time translation could be made.
As some members queried about it, he said this was the situation that if he has to speak in Tamil, he has to get permission in advance.
"I am forced to speak in English or Hindi," he said. While members cannot hear the speech in vernacular languages like Tamil and Bengali, they are forced to hear it in either Hindi or English, the two languages in which translation is available, Mr Thambidurai said.
Speaker Sumitra Mahajan said the facility will be available with the help of technology.
Mr Thambidurai also recalled the enthusiastic participation of people in the freedom movement from Tamil Nadu and named leaders who took active part in it.
The dravidian movement may have had difference of opinion with the Congress, the pre-eminent party in the independence struggle, but they fought for an independent India.
AIADMK founder and late Tamil Nadu chief minister M G Ramachandran was a staunch Gandhian, he said, and had put a condition to his mother that he would marry only if he was allowed to wear
khadi
, which his mother did not like. "Then it happened as he wished," he said.
(This story has not been edited by NDTV staff and is auto-generated from a syndicated feed.)