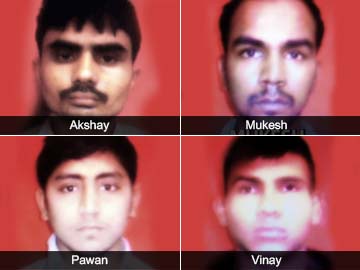 New Delhi:
The Delhi High Court today confirmed the death sentence for four men convicted by a trial court for the gruesome gang-rape and murder of a young medical student in a moving bus in December 2012. (
Also read: Death penalty for crime that 'shocked collective conscience'
)
The court said the crime was "premeditated" and "callous" and one that "left an indelible scar on the social order." (
For this grotesque crime, exemplary punishment is needed: High Court on Delhi gang-rape
)
"The offence in the present case has indubitably been committed in an extremely fiendish , demoniac, barbaric and nefarious manner," the judges said, adding, "debauchery, avarice, profligacy and viciousness appear to be the compelling forces" behind the crime.
The court rejected the appeal of the four men -
Mukesh, Vinay Sharma, Pawan and Akshay Thakur
- against the trial court order, saying to extend a "protective arm to the convicts would be both unnatural and ludicrous."
The convicts' lawyers said they will move the Supreme Court against today's verdict.
Outside court the woman father said, "We are very happy. This verdict will affect many other cases." Her mother said, "Complete justice will be delivered when all the convicts are hanged to death."
On December 16, 2012, a Sunday evening, the 23-year-old student and a male friend were attacked by six men after they boarded a private bus while going home from the cinema. Her friend was thrown to the back of the bus after being battered with an iron rod, which was later used to brutally violate her. The couple was then thrown from the bus.
The young woman died from her injuries 13 days later. (
Read more...
)
The brutality of the attack and her determination to survive so she could identify her attackers to the police, sparked large-scale angry street protests as well as soul-searching about the treatment of women in the country.
The case led to reform of rape and sexual assault laws and shone an international spotlight on what women's groups called a "rape epidemic" in the country.
Four of her attackers were convicted last September after the case was fast-tracked, while a juvenile was sentenced to three years in a detention centre. A sixth man was found dead in jail in March last year. (
Four convicted of rape & murder in case that became India's fight
)