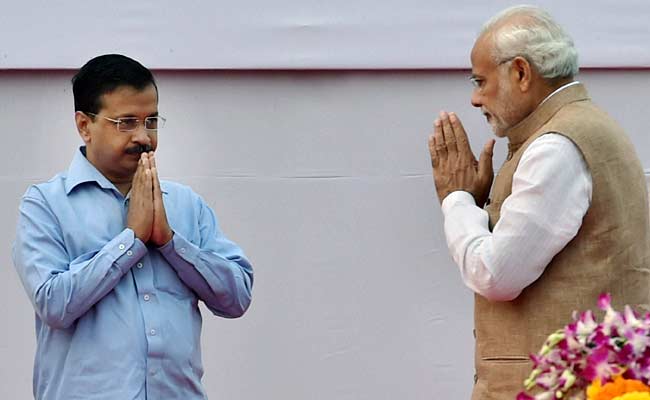 Highlights
Arvind Kejriwal attacks PM over officer moved to UP on request
Kejriwal's request for officer Sanjiv Chaturvedi had been refused
NDTV report had shown panel led by PM had cleared officer's move to UP
New Delhi:
Delhi Chief Minister Arvind Kejriwal, denied an officer he has fervently requested for his team, today targeted Prime Minister Narendra Modi by tweeting an NDTV report on an officer moved to Uttar Pradesh on a Samajwadi Party minister's urging.
Mr Kejriwal has put in multiple requests to the Centre, asking for officer
Sanjiv Chaturvedi to be assigned to his government
. After the Centre's refusal, he even wrote to PM Modi asking him to reconsider.
Dear PM, CM is allowed 2 choose personal staff. But u denied Sanjiv Chat as my OSD. N u bend laws to favor others?

https://t.co/oleX64Fzfj

- Arvind Kejriwal (@ArvindKejriwal) July 26, 2016
The NDTV India report cites documents that show that an appointments committee headed by the prime minister cleared the deputation of an officer, Ajay Yadav, from the Tamil Nadu cadre to Uttar Pradesh.
The report shows a letter dated October 28, 2015, which says that the transfer was approved "for a period of three years on personal grounds, in relaxation of policy, as a special case."
Ajay Yadav's request for a shift, according to the report, was rejected thrice by the Department of Personnel until his relative Shivpal Yadav, a minister in UP's Samajwadi Party government, intervened.
Ajay Yadav, a 2010 batch Indian Administrative Service officer, is the son-in-law of Shivpal Yadav. He had requested a posting in UP in 2014, citing his newborn son's illness and "extreme hardship faced by my family" in a letter accessed by NDTV.
The request was rejected twice by the Centre's Department of Personnel, which said that an officer has to serve at least nine years in his parent cadre.
A letter dated August 26 from the Prime Minister's Office indicates that Shivpal Yadav wrote to PM Modi on the officer's behalf.
The appointments committee cleared the officer's shift, allegedly despite the Department of Personnel repeating its objections.
Ram Gopal Yadav, a Samajwadi Party lawmaker, however defended the move saying it hadn't happened for the first time.
"People with even lesser service have been given deputation in past," he said, adding that the Prime Minister had the power to overrule the Department of Personnel and Training.
Mayawati, the former chief minister who has taken on the BJP over one of its leaders abusing her, said: "I have been saying for a long time that both the BJP and the Samajwadi Party are hand-in-gloves, not only according to this report. They are helping each other in many different ways."
The government and Ajay Yadav have not responded to requests for a comment from NDTV.