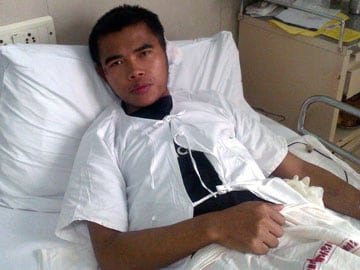 New Delhi:
Two boys from the North East were allegedly beaten with sticks last night at a south Delhi neighbourhood, less than two weeks after the death of Nido Tania in what his friends described as a racist attack.
The boys, who belong to Manipur and are cousins, were allegedly attacked at Madangir in south Delhi by a biker.
One of them, Ginkhansuan Naulak, is still being treated at the All India Institute of Medical Sciences (AIIMS).
The incident surfaces at a time several groups from the North East are protesting the death of 20-year-old Nido Tania, a student of Arunachal Pradesh, after being beaten with iron rods and sticks at south Delhi's Lajpat Nagar market on January 29.
Nido was found dead in his bed hours after he was allegedly beaten by men who allegedly ridiculed him for his blonde hair and shouted racist slurs at him. An autopsy report has confirmed that he died of injuries to his head and face as a result of that attack. Nido's parents had maintained that he died due to the beating, but the police said they could act only after a medical report.
Congress Vice President Rahul Gandhi and Delhi Chief Minister Arvind Kejriwal joined protesters demanding justice for him at candlelight vigils last week.
Politicians across parties have vowed to work with activists and students from the North East to address their recurring concerns of being racially targeted in Delhi and other cities.