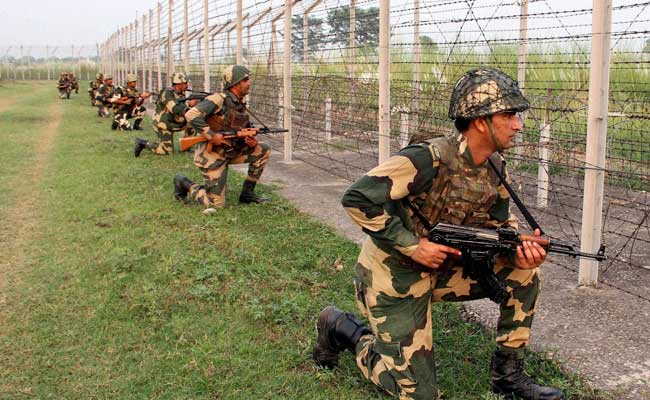 Highlights
Pakistani Rangers fired mortar shells on border posts in Arnia sector
Woman residing in the border area was injured in Pakistani shelling
Spurt in Pakistani shelling along International Border and LoC this year
Jammu:
In yet another ceasefire violation, Pakistani Rangers today fired mortar shells on border outposts at several places in Jammu and Kashmir, prompting retaliation by the Border Security Force or BSF soldiers guarding the International Border. An eight-month-old boy was killed and six people including a special police officer were injured in the firing, officials said
Eight-month-old Nitin Kumar, sleeping with his family outside their home in Pallanwala sector along the Line of Control was killed.
Jammu and Kashmir Chief Minister Mehbooba Mufti, who met a few victims of Saturday's attack, described the the casualties as "highly unfortunate".
As a precautionary measure, schools within a radius of 5 kilometres from the shelling have been asked to remain closed till the situation returns to normalcy.
"The mortar firing from across the border started at around 0700 hours in Arnia sector of Jammu and was still continuing when last reports were received," a senior Border Security Force official told news agency PTI.
"Three border outposts are under fire from the Pakistani Rangers and the personnel deployed there are retaliating to silence the Pakistani guns," the official said.
"There was no immediate report of any casualty in the shelling," he confirmed.
Last night, Pakistani troops fired small arms and mortars, targeting Narayanpur area of Ramgarh sector in Samba district, hours after "pleading" with the BSF to stop firing, after being pounded with heavy artillery that left a trooper dead across the border.
The BSF also released a 19-second thermal-imagery footage, showing the destruction of a Pakistani picket across the border, in retaliation to the unprovoked firing and shelling along the International Border.
Since May 15, the Border Security Force has lost two of its soldiers in the latest round of sudden and unprovoked firing along the International Border in Jammu region.
Four civilians were killed and 11 others injured on Friday in the Jammu area due to the firing, which increased ahead of Prime Minister Narendra Modi's day-long visit to Jammu and Kashmir on May 19.
The state has witnessed a spurt in Pakistani shelling and firing along the International Border and the Line of Control (LoC) this year. Over 700 such incidents have already been reported this year, which have left 38 people, including 18 security personnel, dead and dozens injured.