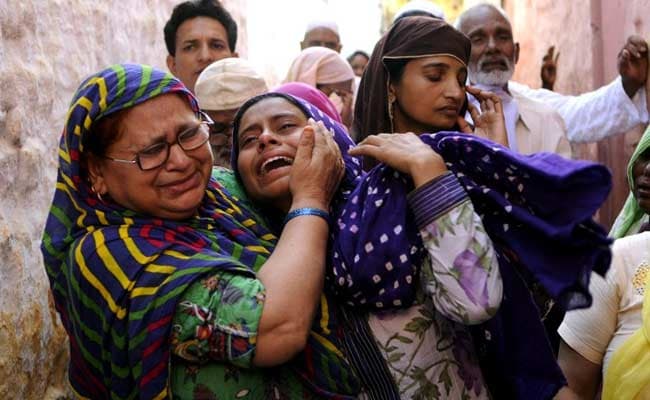 Lucknow:
In its report on the mob killing of a Muslim man last Monday in Dadri, allegedly over rumours that he had beef in his house, the Uttar Pradesh government has not mentioned any motive. The report sent to the Centre last night also misses the word "beef".
Last week, 52-year-old Mohammad Akhlaq was dragged out of his home by a mob of 200 and beaten to death after a public announcement from a temple that he had killed a calf and eaten its meat.
The state government's report said Mr Akhlaq was attacked over allegations that he had consumed "prohibited animal meat".
The state's Samajwadi Party Government says in its report that politics has led to unrest in the area, and names leaders who have visited the village since the killing, including Delhi Chief Minister Arvind Kejriwal, Congress leader Rahul Gandhi, Telangana lawmaker Asaduddin Owaisi and union Culture Minister Mahesh Sharma.
The home ministry, which asked the Uttar Pradesh government for the report, yesterday said in an advisory that there would be zero tolerance for incidents that "attempt to weaken the secular fabric of the nation and exploit religious sentiments."
Mr Akhlaq's younger son Danish, who was severely wounded in the mob attack, is recovering in a hospital near Delhi, with his brother Sartaj, an Indian Air Force corporal, by his side.
Most of the accused in the incident are allegedly linked to local BJP leader Sanjay Rana. His 20-year-old son Vishal Rana is the main accused; he allegedly organised the meeting in which the mob was incited to attack the Akhlaq family.
The tense atmosphere in village Bisada following the lynching was vitiated further when BJP's riot-accused lawmaker Sangeet Som went on the weekend and offered all help to the accused, calling the Akhlaqs "cow-killers."
Mr Som is out on bail on charges of inciting riots in Muzaffarnagar in 2013, in which 60 people were killed and thousands left homeless. On Sunday in Dadri, he threatened a "befitting reply if innocents are framed".