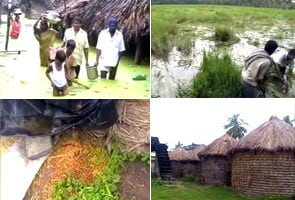 Hyderabad:
It will be a wet, wet Diwali in coastal Andhra Pradesh that continues to be battered by rain even as a fresh cyclonic storm is said to be brewing over the sea. Several low-lying areas remain water-logged forcing people to move out of their homes.
"For the past four days, we have been without any proper food. There is nothing to cook, there is no way to light a fire either," said a coastal Andhra resident.
Farmers who had hoped Diwali would be a time to cheer and celebrate after a bumper harvest have now been left devastated by the rain.
"There is no fodder for the cattle. I don't know what I am going to do. I can only cry or drink pesticide," said a farmer.
Those who harvested before the rains are not feeling lucky either. Buyers were few and prices crashed. Now damp weather is causing discolouration of the foodgrain.
"The 75-kg bad that fetched Rs 1300-1400 were not even going for Rs 600. What should the farmer do?" questioned another farmer.
With standing crop on some seven lakh acres damaged, the mood is far from upbeat. Andhra Pradesh will be praying on Diwali that the depression over the sea does not turn into a cyclone and wreak further damage.