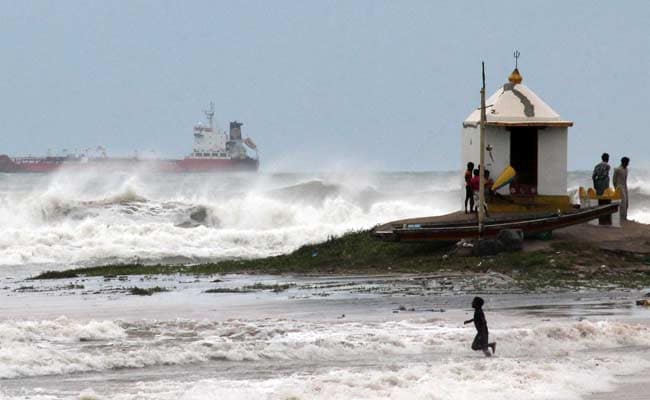 New Delhi:
The National Disaster Response Force (NDRF) is airlifting a number of large metal and wood cutters from New Delhi to Andhra Pradesh and Odisha, the states expected to be hit by Cyclone 'Hudhud', and has increased the strength of its relief teams on standby from 39 to 44.
"We have prepared five more teams to be sent to deal with the Cyclone situation. So, now a total of 44 NDRF teams are in place instead of earlier 39. Three teams will be airlifted tonight from Delhi to AP and Odisha and they would be carrying large saw cutters," National Disaster Response Force (NDRF) chief O P Singh told PTI.
Cyclone Hudhud is expected to reach the northern coastline around Visakhapatnam around noon today.
The NDRF Director General said while 21 teams have been positioned in various areas of Andhra Pradesh, 20 teams have been stationed and mobilised in Odisha.
Mr Singh said the NDRF personnel will use these saw-cutters to tear up big trees and other metal objects likely to be uprooted and scattered by the gusty and ferocious winds of the 'Hudhud'.
A select number of personnel from NDRF teams, the DG said, have been provided to both the states for undertaking "pre-hospital treatment" or medical first-aid procedures for those affected by the Cyclone.
"Some of our personnel have also been trained in animal disaster management and hence they have been tasked to take care of the livestock which bears the most brunt of such natural disasters. I have personally talked to senior officials in the two states to depute my men for this task," Mr Singh said.
The NDRF has deputed two of its experienced Deputy Inspectors General (DIG) to be stationed each in both the states to monitor and supervise the operations of the special disaster mitigation force in coordination with state government authorities.
"Our teams are on maximum alert in Andhra Pradesh's Srikakulam, Visakhapatnam and East Godavari districts as these are expected to be affected the most by the activity of the Cyclone," the DG said.
Over 2,000 rescuers and 220 boats have been pressed in by the NDRF as part of these 44 teams, he said.