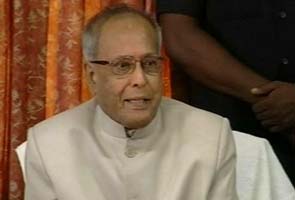 New Delhi:
The student outfit of the CPM has dissolved its JNU unit for its refusal to back the party's decision to support Pranab Mukherjee's bid for President for India. The Students Federation of India or the SFI has also expelled four student leaders from the membership of the body.
In a statement released yesterday, the Delhi State Committee of the SFI said it has decided to dissolve the JNU unit and expel four state committee members - Roshan Kishore, P K Anand, Zico Dasgupta and V Lenin Kumar - for indulging in anti-SFI activities.
The action comes days after the JNU unit passed a resolution criticising the CPM's decision to support Mr Mukherjee claiming that the former Finance Minister, who is the Congress-led UPA government's choice for the top post, supports "neo-liberal" economic policies which CPM opposes.
Condemning the move, the JNU unit said there was no effort on the part of the party leadership to provide any political explanation on issues raised by them. In a statement, it described the action as "a mockery of the democratic processes of organization functioning" as laid down in the SFI Constitution and a "grave assault" on the independent and progressive character of a student organization.
"The SFI-JNU unit has not indulged in any anti-SFI activity. The political position against CPM support to Mukherjee was adopted in a transparent and democratic manner, after convening executive council meeting and a General Body. Neither did the all-India leadership of SFI take any public position on the issue nor did it make any attempt to engage with the SFI-JNU Unit in a democratic manner," the statement read.
Protesting against the decision, SFI Delhi State Secretary Robert Rahman Raman resigned from the post saying the decision was taken "without adequate consultation". Raman, who is currently on leave from the organization for academic purposes, termed it a "high-handed decision" taken in the "most undemocratic and apolitical manner".
A few weeks ago, Prasenjit Bose, a former SFI leader from JNU who headed the research unit of CPM, was expelled from the party for questioning the CPM's decision to support Mr Mukherjee.
The election for President of India has left the four parties that make up the Left divided. While two of them - the Communist Party of India-Marxist (CPI-M or CPM), and the Forward Bloc - have said they will support Mr Mukherjee, the CPI and the Revolutionary Socialist Party (RSP) have decided to abstain from the July 19 vote.