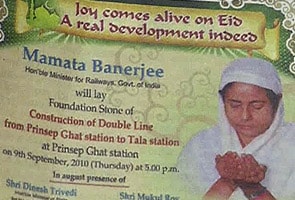 Kolkata:
After sparking off a political row with her remarks on the killing of Naxal leader Azad, Railways Minister Mamata Banerjee now finds herself in the middle of another controversy.
This time, it's a railway advertisement with her picture offering Namaz in the backdrop of Islamic motifs - a crescent moon, a star and the outlines of a mosque.
What's raising eyebrows is the use of a railway advertisement for catching Muslim votes.
Both the CPM and BJP are accusing Mamata of using public money to exploit religious sentiments for political gain.