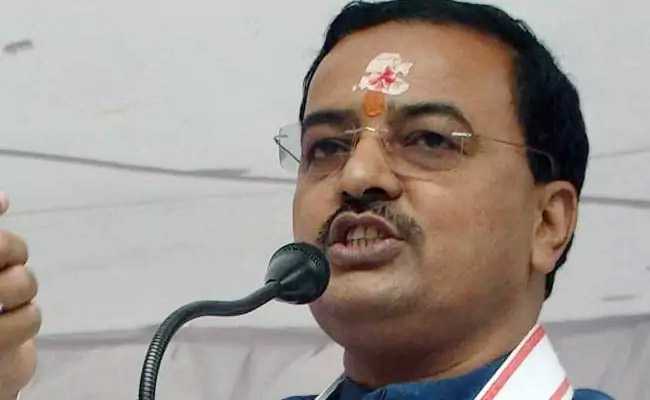 Lucknow:
Uttar Pradesh Deputy Chief Minister Keshav Prasad Maurya Saturday mocked Samajwadi Party president Akhilesh Yadav over efforts to unite the opposition, saying he could not even keep his family together.
"A person who could not keep his family as a unit, how will he cooperate with his 'bua' (aunt)," he said in an apparent reference to Bahujan Samaj Party supremo Mayawati.
Akhilesh Yadav has in the past referred to the BSP leader as 'bua'.
Mr Maurya was addressing a meeting of the 'Yadav samaj' organised by the party's OBC Morcha.
"Akhilesh Yadav ran government for five years. But, what example did he present?" Mr Maurya said.
"He snatched the chair and post of party president, which was held by his father Mulayam Singh Yadav, and also misbehaved with uncle Shivpal Yadav," he added.
Mr Maurya said be it the 2014 Lok Sabha elections or UP Assembly elections in 2017, without the support of 'Yaduvanshis' (Yadavs), the BJP could not have won.
"And without the Yaduvanshis, we would not be able to register victory in 2019 Lok Sabha elections. Hence, it is my appeal that 'Lotus' should bloom at the booths dominated by Yaduvanshis," he said.
The deputy chief minister also said that the BJP is aiming to win 74 of the 80 seats of the state in 2019 Lok Sabha polls.
Mr Maurya said, "The upcoming election will be an election to make India the number one country in the world, and for this everyone has to unite and give the reins of power to Prime Minister Narendra Modi.
"I am sure that 'Yaduvansh' will support Modiji in 2019," he said.
In a tweet, Mr Maurya also said Yadavs are not with "opportunists" and are with "nationalism and developmentalism".
"The victory of the BJP in Yadav-dominated polling booths in 2014-2017 is an indicator that members of the community in UP are not with avsarwaadiya (opportunists), but are with rashtrawaad (nationalism) and vikaswaad (developmentalism)," he said.
Later speaking to reporters, Mr Maurya said, "I can say with confidence that the performance of the BJP in the state can be easily seen and experienced, and hence the BJP is getting support from all sections of the society."
He added, "I have no hesitation in saying that in UP the wave of Prime Minister Narendra Modi and BJP is much stronger as compared to the country.
"In the 2019 Lok Sabha polls, we will improve our tally of victory, which we had achieved in 2014 (Lok Sabha polls) and 2017 (UP Assembly elections)," Mr Maurya said.