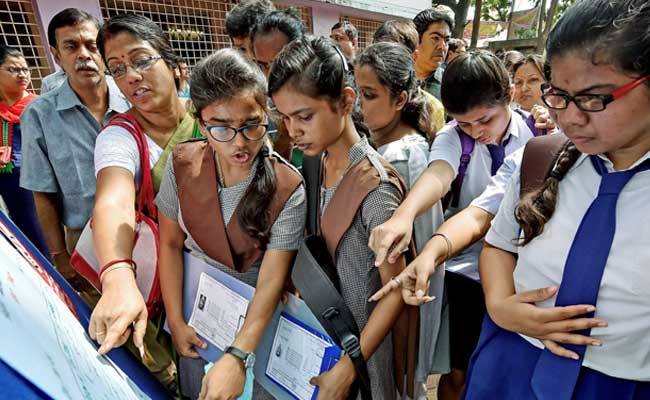 Highlights
Eight students and five tutors among 25 questioned over CBSE leak: Police
These people had access to the handwritten question papers, police said
Cops looking for admins of WhatsApp groups on which papers were shared
New Delhi:
The school board CBSE and the police knew about the leaked question papers before millions of students took the examination on Monday, reveals the police complaint accessed by NDTV. Eighteen students - 11 from various Delhi schools and seven first year college students -
are among 25 people questioned as the police tries to track down the source of the leak
.
These students and tutors had the handwritten question papers a day before the exam, the police said. "None of them took any money," said police officer RP Upadhyay.
Nearly two million students will have to resit their finals as the Class 10 math and Class 12 economics papers had been leaked, the board announced yesterday.
Speaking for the first time on the scandal, the board's chief Anita Karwal said today: "Children shouldn't worry, we are with them and we have taken decisions in favour of the children."
According to the First Information Report, the CBSE or Central Board of Secondary Examination received a fax last Friday, which said a man who runs a coaching class in Delhi was leaking question papers.
The CBSE handed over the fax to the police a day later
.
Reports say a copy of the leaked question paper of the Class 10 math exam on Wednesday was delivered to the office of the CBSE chief the evening before.
It is not clear why the CBSE and the police did not follow up on the tip-off.
They had time to call off the exam, argue many students. The questions were circulated on WhatsApp just before the exam. But right until it announced the exams scrapped, the board appeared to be in denial.
Education Minister Prakash Javadekar had said yesterday
, "2-3 papers had been leaked on WhatsApp 30 minutes before the exams". The CBSE had an idea much before. The students being questioned had the papers a day earlier. Those who bought the paper had it even before them, the police suspect.
The fax that tipped off the board had alleged that the leaked paper originated from a man called Vicky, who runs a coaching institute in Rajinder Nagar in west Delhi. The police are also looking for admins of WhatsApp groups on which the question papers were shared.
"Let me assure that we will further improve the system and make it foolproof," said the minister, who remarked that "as a father, he couldn't sleep last night".
The re-exam has upset millions of students who are bracing for two more final papers around the middle of next month, when the new session starts.
Students protested in Delhi's Jantar Mantar this morning, demanding a re-examination for all subjects. They feel many other question papers were leaked before the exams.