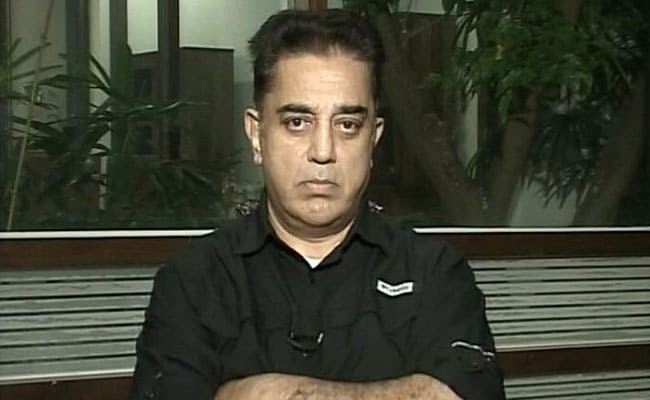 Chennai:
Actor Kamal Haasan, who had ruffled feathers recently with his "there's corruption everywhere in the state" comment, has found support from former Chief Minister O Panneerselvam and opposition leader MK Stalin. The two long-time political rivals found themselves on the same side after Tamil Nadu minister SP Velumani dared Mr Haasan to provide evidence of his comment and threatened him with legal action.
"In a democracy everyone has the right to express their opinions. They should respond on the basis of the allegations made. Tacitly threatening (anyone) is unacceptable," said Mr Panneerselvam, who is popularly known as OPS.
Mr Stalin, who is also the DMK's working president, said, "Kamal Haasan had merely said there's corruption everywhere. He was threatened. Everyone has the right to criticise the government."
Mr Haasan had made the remark while responding to demands by a fringe group, Hindu Makkal Katchi, for
his arrest and a ban on the Tamil version TV show Bigg Boss
that he's hosting alleging vulgarity and hurting Tamil sentiment. The
group also wanted the contestants on the show to be arrested for their "obscene statements".
Mr Haasan had tried to reason saying Bigg Boss is a social experiment. "It's a reality show on co-existence." The reality show is Kamal Haasan's TV debut.
But on Saturday, Mr Velumani, the local administration minister, had questioned if there was any "evidence" to prove that corruption prevails in various government departments. "If so, let him prove it. A case will be filed if he levels unsubstantiated allegations," the minister had said.
A few years ago when the Tamil Nadu government stopped screening of his film Vishwaroopam, the actor had threatened to leave the country, after which the then Jayalalithaa government paved way for release of the film.
Mr Panneerselvam - a loyalist of former Chief Minister Jayalalithaa -- broke away from the AIADMK earlier this year after he was forced to make way for her aide VK Sasikala for the state's top post. Ms Sasikala, whose bid for power was cut short by her conviction in a corruption case, had named her proxy, E Palaniswami, as the Chief Minister.