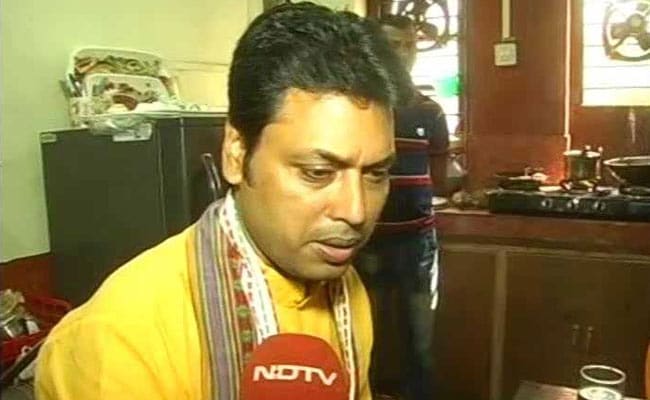 Agartala:
Tripura Chief Minister Biplab Kumar Deb on Monday called upon people living along the India-Bangladesh border to launch ''Janata patrolling' alongside the BSF to ensure that no person from the neighbouring country sneaks into India amid the coronavirus outbreak.
Mr Deb, who also holds the Home portfolio, said in a video message: "Bangladesh is a friendly state. But, we came to know from media that social distancing is not being maintained there. So, we have to resist the spread of coronavirus across the border to save our own people."
"It is possible that you might have your relatives there who would like to seek help for treatment in India. I am not against humanitarianism. But I want to assert that a humanitarian approach should not become our weakness. I request everyone to make sure that no one enters Tripura from Bangladesh," he said.
The BSF and the state police have already been put on alert to intensify patrolling along the unfenced stretches of the border, especially in Sonamura, Boalkhali and Gandacherra areas, a statement issued by the Chief Minister's Office said.
Mr Deb also said that his government has come in contact with 2,000 people from Tripura stranded in other parts of the country due to the nationwide lockdown.
The state government has sent financial aid to a large number of the stranded persons and urged them to be constant touch with their families over the phone, he added.
World
Coronavirus has spread to 194 countries. The total confirmed cases worldwide are 19,66,15,634 and 41,98,750 have died; 6,33,31,644 are active cases and 12,90,85,240 have recovered as on July 30, 2021 at 9:37 am.
India
3,07,43,972

42360
Recovered
In India, there are 3,15,72,344 confirmed cases including 4,23,217 deaths. The number of active cases is 4,05,155 and 3,07,43,972 have recovered as on July 30, 2021 at 8:00 am.
State & District Details
State
Cases
Active
Recovered
Deaths

6290156 7242

81933

6075888 11032

132335 190

Sri Potti Sriramulu Nell*

296

1962049 2107

21279 280

1927438 1807

13332 20

2901247 2052

23277 685

2841479 1332

36491 35

170900 90

1077

166679 93

3144 2

2555664 1859

21207

2500434 2145

34023 28

3349365 22064

155327 5287

3177453 16649

16585 128

1001781 130

2086

986175 270

13520

Jayashankar Bhupalapally

9

643716 623

9188

630732 746

3796 3

974132 1615

15276

953088 2039

5768 65

791796 18

130

781153 18

10513

824829 27

268

814485 33

10076

953622 17

259

944410 26

8953

769858 30

712 10

759516 17

9630 3

1708373 60

784 16

1684834 44

22755

1436144 51

554

1410541 70

25049

564030 1299

14114

544695 1664

5221 20

26132 276

3297 180

22498 92

337 4

724719 46

481 1

714596 42

9642 3

1526539 766

11300

1497116 822

18123 14

North And Middle Andaman

1

7534 3

10 3

7395

129

120725 98

972 49

117961 49

1792

47477 335

4252

43000 383

225 1

27653 67

1299

25798 114

556 4

10643 1

36

10603 6

4

347105 56

259 22

341720 34

5126

78059 271

3640

73665 488

754 4

20324 4

60

20057 8

207

321207 181

1144 5

315686 175

4377 1

205728 229

1098 145

201110 84

3520

Shahid Bhagat Singh Nagar (Nawanshahr)

99

599005 58

553

582162 60

16290 4

341982 48

669

333952 51

7361

96824 1000

10895

84408 1016

1521 11

61948 5

37 1

61102 4

809

63745 731

5750 294

56933 423

1062 14

37171 764

11862 252

25168 511

141 1

10162 7

70

10042 13

50