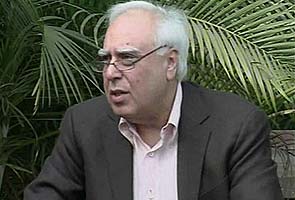 New Delhi:
The government today took the first step towards changing landmark Supreme Court rulings that disqualify lawmakers convicted of a crime and bar jailed persons from contesting polls, two decisions that were seen as a big leap towards cleaning up Indian politics.
Political parties across the spectrum had opposed both rulings saying they could be misused to settle scores.
According to a cabinet note drafted by the Law Ministry, the government will amend the law to allow convicted lawmakers to participate in house proceedings, but without any voting rights or allowances.
This dilutes the ruling of the Supreme Court, which had said last month that an MP or MLA once convicted, would stand immediately disqualified, regardless of any appeal pending in a higher court.
The government argues that if an employee is convicted, but gets a reprieve from a higher court, he is taken back. But if an elected representative is disqualified and loses the election, he cannot return as a lawmaker even if the court clears him.
The Law Ministry has also suggested adding a new clause to the Constitution to say that a person can contest elections even if he can't vote.
Sources say this is the government's way of skirting the Supreme Court's ruling that "if a jailed person can't vote, a jailed person can't contest."
Law Minister Kapil Sibal sat with senior BJP leader Arun Jaitley to discuss these changes.
As it considers ways to work around the Supreme Court's decisions, the cabinet will also take up the proposed Judicial Appointments Commission to change the collegium system of appointing judges and give the government more say in the process.