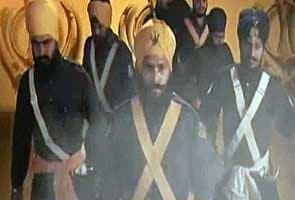 Chandigarh:
On YouTube,
a promotional video
for Punjabi film Sada Haq has popular singer Jazzy B singing a song that controversially clubs as rebels, Sikh Guru, Guru Gobind Singh and freedom fighter Bhagat Singh, with militants like Jarnail Singh Bhindranwale and Balwant Singh Rajoana.
The song 'Baghi' (rebel), like the film which is slated for release this Friday, seems to glorify the militants, but the producers say it simply talks about rebels and does not link or equate any of them. "Guru Gobind Singh Ji was a rebel at that time. If we talk about today's rebels, yes Rajoana is a rebel. It's a song by Jazzy B to promote the movie and we agree with him. We are saying the Sikh community has had rebels from the Guru's time till the present," explained producer Kuljinder Sidhu.
Balwant Singh Rajoana is on death row at a Patiala jail for the 1995 assassination of former Punjab Chief Minister Beant Singh. Bhindranwale was a militant leader who had holed up with his supporters and arms in Amritsar's Golden Temple in 1984 and fought a pitched battle from there with security forces, till he was killed.
Sada Haq is based on a story about militancy in Punjab and has characters in it similar to Rajoana and other militants. The film was stuck with the censor board for some time; the Shiromani Gurdwara Parbandhak Committee (SGPC) had requested that it be cleared. The film now has censor board clearance, but the Jazzy B promo song does not. The producers, however, do not see that as a problem.
On Youtube, the official video of the song,
uploaded on March 24 this year, already has more 168,000 views at the time of writing this report. Most comments on the video support the flavour of the song.
The BJP, which is a partner of the ruling Akali Dal, has expressed concern. Balram Ji Tandon, senior BJP leader and a former minister said, "This movie is not in national interest and in the interest of Punjab. It is not correct to compare Guru Gobind Singh and Bhagat Singh with Rajoana. Terrorists have inflicted injuries on Punjab." The party has said it will ask the Punjab government to ensure objectionable portions are removed.