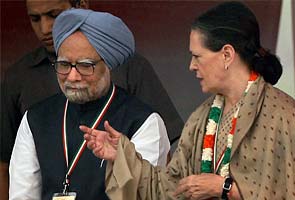 New Delhi:
The Congress will hold its brainstorming session, termed
Chintan Shivir
, in Jaipur from January 18 to 20 to discuss political and economic situations and seek new ideas ahead of the next Lok Sabha elections in 2014.
Of the three-day event, two days will be devoted to brainstorming session of 300-odd senior leaders and will culiminate into a day-long Congress meeting on the last day, party's general secretary Janardan Dwivedi told reporters today.
The meeting will endorse the conclusions arrived at during the brainstorming exercise, the third such '
Shivir
' since Sonia Gandhi became Congress President in 1998. The earlier two brainstorming sessions were held at Pachmarhi in Madhya Pradesh and Shimla in Himachal Pradesh.
The first '
Shivir
' was held at Pachmarhi in 1998 soon after Ms Gandhi took over reins of the organisation. The second '
Shivir
' held at Shimla in 2003 led to Congress coming to power at the Centre with the help of coalition in May, 2004.
The exercise in Jaipur will be crucial for the party and is expected to be the first such venture after a proposed reshuffle of Congress secretariat when Rahul Gandhi is set to assume a larger role in the party.
The idea of '
Chintan Shivir
' was mooted by Sonia Gandhi in the party's plenary in Delhi in December, 2010 but it could not materialise as both the government and the party had battled one crisis after another since then.
The issue of alliances is expected to figure prominently at the Jaipur brainstorming session as it had done in Pachmarhi and Shimla. At Pachmarhi, Congress had held that coalition is a transient phase while that in Shimla had called for unity of secular forces that led to the formation of UPA in 2004 ousting BJP-led NDA from power.
It will be held after assembly election results in Gujarat and Himachal Pradesh come out and preparations for assembly polls in Rajasthan, Madhya Pradesh, Chhattisgarh and Delhi would have commenced.
The '
Shivir
' will review political and economic situation as well discuss schemes implemented by UPA government in rural and urban areas, Mr Dwivedi said.