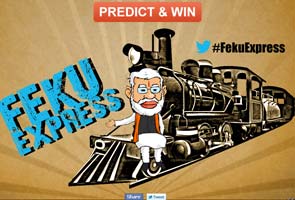 New Delhi:
The latest salvo in the social media war that supporters of the Congress and BJP are waging is a website called 'www.Fekuexpress.com.'
Developed by Congress supporters to target Gujarat Chief Minister Narendra Modi, the website was launched on Sunday and yesterday did pitched battle against the hashtag NamoinHyd, created by the supporters of Gujarat Chief Minister Narendra Modi to celebrate his visit to Hyderabad on Sunday.
Featuring a Modi cartoon and a train, 'www.Fekuexpress.com.' parodies predict and win contests, offering two tickets for the new Shah Rukh Khan starrer Chennai Express for those who can "predict which of his earlier lies he will repeat."
Congress supporters have used "feku" which is slang for one who makes tall claims, often as a hashtag on Twitter to attack Mr Modi, who is expected to be named the BJP's candidate for Prime Minister soon. Mr Modi's supporters retaliate with the hashtag "Pappu" to target Congress number 2 Rahul Gandhi.
On Monday, the Congress ridiculed Mr Modi for his Hyderabad speech in which the Gujarat Chief Minister appeared to do a Barack Obama by making the crowd chant 'yes we can'.
"Now we have a FAKE DESI OBAMA too. FEKU at his best !," Congress general secretary Digvijaya Singh tweeted.
Beginning his speech in Telugu, Mr Modi exhorted all non-Congress parties to come together and ended his 45-minute speech with the 'yes we can' chant.
Mr Modi's supporters have released a video from 2004 to deny claims that the Gujarat Chief Minister took a page out of the US President's book.
The video, uploaded on YouTube by user 'iSupportNamo', has Mr Modi's speech at the Vibrant Gujarat summit in 2004, where he said "Gujarat can and Gujaratis will."