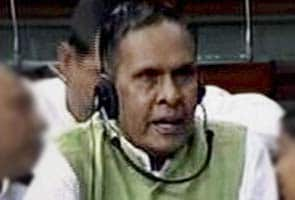 New Delhi:
The Congress has reprimanded union minister Beni Prasad Verma for attacking important ally Mulayam Singh Yadav, who heads the Samajwadi Party, which often bails out the government in crucial votes in Parliament. The minister accused Mr Yadav over the weekend of links to terrorists.
Congress spokesperson Janardhan Dwivedi said that "Leaders must watch their language." Parliamentary Affairs Minister Kamal Nath offered "regrets" for the minister's comments.
Mr Yadav in Parliament this afternoon demanded the removal of Mr Verma, who is Steel Minister, from the cabinet. Samajwadi MPs disrupted the Lok Sabha. The minister later asked, "Who is Mulayam to ask for my removal?"
Mr Verma and Mr Yadav both belong to Uttar Pradesh. The minister had denounced the Samajwadi President, saying, "Mulayam Singh is the biggest curse for the state." He added, "He is not just corrupt but a criminal as well. How will he be able to save this state? He has connections with terrorists."
Mr Yadav said that the minister also suggested all Muslims are terrorists in remarks made after a convention in Lucknow on Saturday where Muslim religious leaders highlighted the contributions of the community in the service of the nation.
Mr Verma said in Parliament today, "For me, terrorism has no religion, no colour... He (Mulayam) joined hands with those who demolished the Babri Masjid, like Kalyan Singh. His party also helped BJP to win in Gujarat."