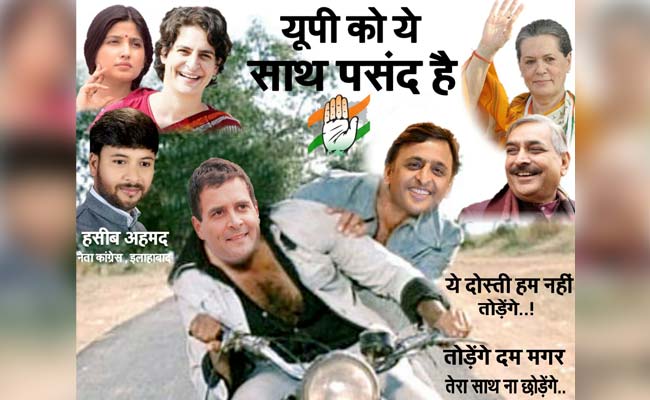 Highlights
Akhilesh Yadav and Rahul Gandhi announced alliance yesterday
Posters by Congress place Rahul Gandhi in lead role
Congress' Sholay poster makes Akhilesh Yadav supporting actor
Allahabad:
A day after Chief Minister Akhilesh Yadav and Congress boss Rahul Gandhi appeared together in Lucknow to announce their alliance, their partnership is being celebrated with new posters in Allahabad that channel the blockbuster 70s hit,
Sholay
.
It's not hard to figure out whose party handled the creative brief. Despite the fact that the Congress is by far the junior partner in the arrangement, it's Mr Gandhi who essays Veer, the lead character played by Amitabh Bachchan, steering the bike, a hairy chest exposed with a plunging black button-down shirt. The Chief Minister, cast in the role of Dharmendra's Veeru, rides pillion. Over their shoulders, in varying degrees of smiling approval, are Mr Gandhi's mother and Congress chief Sonia Gandhi, his sister, Priyanka Gandhi, and Mr Yadav's wife, parliamentarian Dimple Yadav.
The rudimentary photoshopping includes the lyrics of the famous
Sholay
song "
Yeh dosti, hum nahin todenge
" (this friendship will last) and includes the official campaign tagline "UP
ko yeh saath pasand hai
" (UP likes this combo).
Not present in the cast of characters is Mr Yadav's father, Mulayam Singh, who has, with largely uninterrupted focus, challenged and denounced the breadth of the Chief Minister's decisions including his signing on the Congress. Yesterday, right after Mr Yadav and Mr Gandhi appeared publicly, Mulayam Singh said that he will not campaign for the election. "We are sure he will," said Mr Yadav to NDTV today, handling the latest instalment of his father's truculence with characteristic cool.
Mulayam Singh feels that the Congress, with its diminished political standing, brings little to the table, and the decision to give the party 105 of Uttar Pradesh's 403 seats will demoralize the workers of his own party. Mr Yadav, however, believes that his front with the Congress will draw the bulk of the 18% Muslim vote of Uttar Pradesh, serving as an effective check to rivals Mayawati and the BJP.
"Based on our work, we will win the election anyway, but the Congress aspect makes it a surer shot," he told NDTV today in Lucknow.
Till the Congress hitched a ride with Mr Yadav, its prospects in Uttar Pradesh were cold. In the last state election, it won just 29 of 403 seats. In the general election, it was downsized embarrassingly, with only the Gandhis being re-elected to parliament.