New Delhi:
Highlights
UP Congress releases booklet that marks Kashmir as India-occupied Kashmir
Apologises, says it was a 'printing error', says BJP never apologised
BJP attacks party over gaffe, says plays into Pakistani narrative
The Congress party is being skewered on social media after publishing a booklet that has labelled Kashmir as 'Indian Occupied Kashmir'. The booklet released by Uttar Pradesh unit of the Congress in Lucknow on the occasion of the third anniversary of the BJP-led government at the centre, attacks the administration over national security affairs, including the handling of relations with Pakistan and China.
'Indian Occupied Kashmir' trended on Twitter on Saturday night as the gaffe in the booklet released by senior Congress lawmaker Ghulam Nabi Azad came to light. Attacking the party for the mistake, the BJP said it must have gladdened the heart of its "patrons in Pakistan".
On its part, the Congress party apologised for the "big mistake", and said it was a "printing error". It, however, claimed the BJP had released a similar map on its website but never admitted to the mistake.
"This is a printing error. This was our responsibility. We seek apology. Such mistakes will never be repeated. Unlike BJP, we are a party which can seek apology if there are any mistakes," Congress leader Ajay Maken said.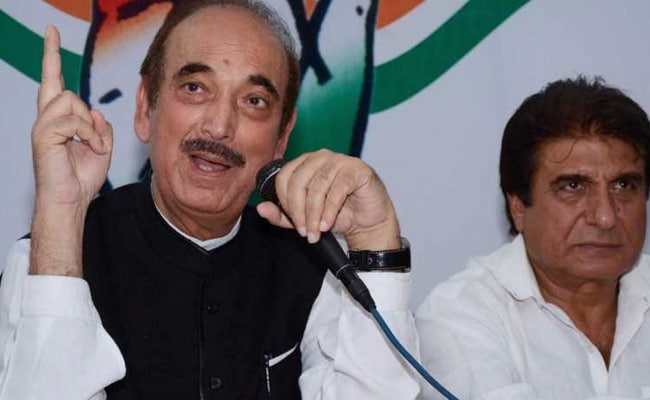 Reacting to the incident, Union Minister Ravi Shankar Prasad said, "It is not only regrettable but shocking that a senior Congress leader like Azad is projecting a map of Kashmir where it is described as Indian occupied Kashmir. Is Congress speaking the language of Pakistan?"
"A Parliament resolution says even Pak-occupied Kashmir is part of India. By projecting Kashmir as Indian occupied Kashmir the Congress party has not only made separatists happy but also gladdened the heart of its patrons across the border. It is condemnable," he was quoted as saying by news agency PTI.
Targeting the BJP, Mr Maken said its website had on March 28, 2014 shown a similar map. He claimed a map which was released the same year in September during the signing of a treaty with China in the presence of Prime Minister Narendra Modi had shown Arunachal Pradesh as part of China.
On Twitter, supporters of the BJP clobbered the Congress for the gaffe.
Hey @INCIndia This is UNACCEPTABLE, a week ago ur leaders slaughtered a cow & now ur booklet say "INDIAN OCCUPIED KASHMIR"
U pay for this. pic.twitter.com/hvCVAR7CIB

- Sundeep Bhatera. (@bhasaby) June 3, 2017
Everyone is aware that Congress is corrupted, but now Kashmir is labeled as 'Indian Occupied Kashmir' in a book released by @INCIndia too pic.twitter.com/AN2BE3Am8E

- Neetu Garg (@NeetuGarg6) June 3, 2017
Congress supporters meanwhile countered with their own tweets.
On May 30, 2017,BJP-PDP Govt of Jammu & Kashmir mentioned the state of Jammu and Kashmir as "Indian Occupied Kashmir" (Letter Attached) 4/n pic.twitter.com/GT0GE1UHRO

- Rachit Seth (@rachitseth) June 3, 2017
Shainaji unashamedly calls Indian Occupied Kashmir. What else can be expected from someone who looks upto British lapdog Savarkar as hero?

- Faiyaz Ahmed (@faiyazasm) June 3, 2017
(With inputs from PTI)
Get Breaking news, live coverage, and Latest News from India and around the world on NDTV.com. Catch all the Live TV action on NDTV 24x7 and NDTV India. Like us on Facebook or follow us on Twitter and Instagram for latest news and live news updates.