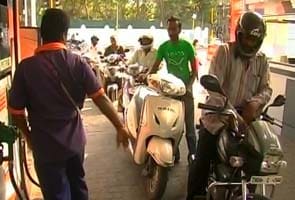 New Delhi:
The Congress is not in favour of a petrol price hike anytime soon, sources have told NDTV. The party's core group met this evening and discussed the issue, sources said. Oil Minister Jaipal Reddy, who is not a part of the core group, was also present at the meeting.
Just a few hours, before the meet, Mr Reddy had said the "painful duty" of a hike in fuel prices cannot be ruled out in the near future.
The minister, however, clarified that the issue was not on the agenda of the Cabinet Committee on Political Affairs meeting, which was scheduled for later in the day, but has now been postponed.
Mr. Reddy was speaking to reporters after meeting Finance Minister P Chidambaram in New Delhi. "The increase is unavoidable. We are not sure to what extent it will hit the consumer," the minister had said. "I can't say to what extent and which day the price will increase."
Mr. Reddy had last Friday ruled out an immediate hike in fuel prices, saying there was no such plan. Mr Reddy was speaking to the media at an Indian Oil event in New Delhi.
"It is my duty as a minister to bring out the facts in front of the Cabinet Committee of Political affairs...don't know when the CCPA will take up the issue," he said, adding that there is a need to reduce the under-recoveries of oil marketing companies.
Indian Oil chairman R.S. Butola, who was also present at the event, had said that oil companies were currently losing nearly Rs. 6 per litre on petrol sales. "There is a need to raise petrol prices. We are in consultations with our colleagues at other oil marekting companies and stakeholders," Mr Butola had said.
There were reports earlier last week that oil companies were going to hike the price of petrol by as much as Rs. 5, and that prices of diesel and kerosene, which are regulated, will also increase in a week's time.
State-run oil marketing companies are losing Rs. 550 crore everyday on under-recoveries as a result of higher crude prices in the global markets.
They make a loss of Rs. 17/litre on diesel sales, Rs. 32.7/litre on kerosene sales, and Rs. 347/cylinder on cooking gas sales every day.