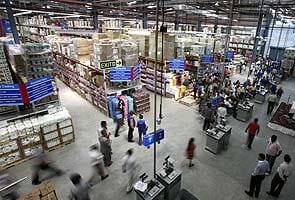 Kochi:
Congress-ruled Kerala Chief Minister Oommen Chandy today said the Centre's decision to allow 51 per cent foreign investment in multi-brand retail business would not be implemented in the state.
"Kerala government has already informed its position to the central leadership. We are not in favour of that. We will not implement it in Kerala," Mr Chandy told reporters.
"The central government has given freedom to each state on whether it is to be implemented or not. So, at any cost, we will not proceed with this," the Chief Minister said.
Announcing some major economic reforms, the Centre today announced operationalisation of 51 per cent Foreign Direct Investment (FDI) in multi-brand retail, despite opposition from certain states, including those ruled by the Congress and its allies including Mamata Banerjee-led Trinamool Congress (TMC).
The decisions, which have prompted angry reactions from its key ally TMC, as well as BJP and Left parties, came a day after the government announced a hike in diesel prices and capping supply of subsidised LPG cylinders to cut oil subsidies.
"Let us not confuse consensus with unanimity. For unanimity, we will have to wait in eternity. This (today's decision) has consensus," Commerce Minister Anand Sharma told reporters in the national capital, while conveying the message that the Centre has decided to go ahead with the reforms notwithstanding opposition.